Forecast raises fears of flooding on Vancouver Island
Nov 25 2011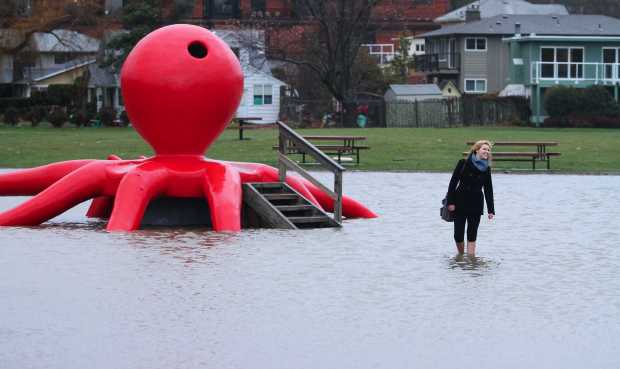 Mount Doug Student Clare MacGregor enjoys the flooding in Gyro Park on Thursday, Nov.24, 2011.
Photograph by:
Bruce Stotesbury, timescolonist.com
A severe storm expected to sweep across the Island this weekend has raised concerns about potential flooding.
Rivers along the east coast of Vancouver Island are most vulnerable to flooding during periods of heavy rainfall, often seen during fall and winter. Flooding is a growing concern as the ground becomes saturated and river levels rise, David Campbell, head of the provincial River Forecast Centre, said Thursday.
"This weekend is certainly a period of time we're watching closely, particularly with this storm," said Campbell.
"The rivers haven't dropped down to the base levels they were at last week so this system of storms that have been coming through in the last few days have brought the saturation up.
"One thing that's going to help us is the rainfall doesn't look like it will be excessive, but it certainly is high enough we need to keep an eye on it."
Another problem, Campbell said, is that the metre of so of snowpack on the Island mountains can melt with the warmer air of the incoming system, adding to the flows. Once the season wears on and the snowpack gets deeper, more rain can be absorbed without impacting Island rivers, Campbell said.
Yet another wildcard are the highest tides of the year, which are pushing sea water up river estuaries. They are compounding the threat of flooding on the Chemainus, Cowichan, Englishman and Tsolum estuaries.
This winter will see the second La Niña in a row, although this one is weaker than last year's, Campbell said.
That generally means a cooler and wetter winter "and that doesn't always translate into more flood risk."
Along with La Niña, B.C. coastal weather will be affected by the Pacific decadal oscillation, a pattern of climate variability that brings cooler temperatures to the North Pacific near the Gulf of Alaska, Campbell said.
Its can alter the effects of La Niña, he said, bringing cooler and dryer weather to the region.
"The seasonal forecasts are for about normal wetness but cooler than normal temperatures for this part of the country," said Campbell. The flood risk is about normal for this time of the year, he added.
In December 2007, flooding of the Nanaimo River in Cedar led to the evacuation of more than 50 people from Wilkinson, Raines, Alice, Riverside and Aaros roads.
smcculloch@timescolonist.com
We thought you might also be interested in..