Former environment minister Barry Penner packs it in, takes job as lawyer
Nov 25 2011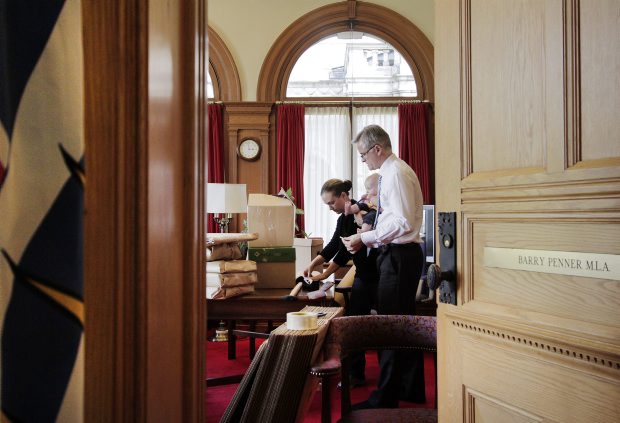 In this file photo from August, 2011, then Attorney General Barry Penner, with his wife Daris LaPointe and six-month-old daughter Fintry, packs up his legislature office after announcing his resignation from the job.
Photograph by:
Lyle Stafford, timescolonist.com
Former environment minister Barry Penner, best known in Greater Victoria ordering sewage treatment, announced his resignation from politics Thursday.
Penner, a four-term MLA for Chilliwack-Hope who also served stints as attorney general and minister of aboriginal relations, is taking a job with Vancouver law firm Davis LLP.
He said he'll vacate his seat early in the new year. That will leave Premier Christy Clark with two potential byelections in ridings where Liberal MLAs have resigned. Former labour minister Iain Black resigned in August to take a job with the Vancouver Board of Trade.
Penner denied his departure had anything to do with disagreements with Clark. He stepped down as attorney general in August, before Clark had ruled out a fall election, saying he had no desire to run for another term. At that time, Penner said he started to consider his future outside politics.
In 2006, Penner moved to end decades of debate over sewage treatment by ordering Greater Victoria to end its practice of dumping raw sewage the ocean.
Although the issue remains controversial — and the $782-million project is in limbo due to a lack of commitment on federal and provincial funding — Penner defended the decision.
"I think that sewage treatment is necessary and I trust that will take place in the not too distant future," he said Thursday.
Penner is also known locally for trying, as environment minister, to capture a yellow-bellied marmot named Roger who had set up home on the grounds of Victoria's Fairmont Empress.
Despite the expenditure of much peanut butter bait, the marmot remains elusive. The Penner departure perhaps paves the way for an indefinite marmot stay at the hotel.
"I did actually go looking for him last week a bit," Penner said. "But he's been playing a bit of hide and seek of late... exactly where Roger the marmot is, is a bit of a mystery. "And maybe it's best left that way."
rshaw@timescolonist.com
We thought you might also be interested in..