Victoria police release video of jail cell assault that led to cop's conviction
Nov 26 2011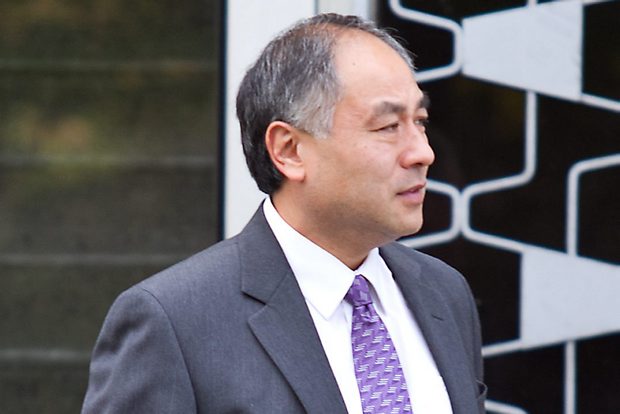 Sgt. George Chong leaves court the Victoria courthouse in this file photo from May 4, 2011.
Photograph by:
Darren Stone, timescolonist.com
Victoria police have released the video of the jail cell incident which led to an assault conviction against a veteran police sergeant.
Sgt. George Chong was found guilty of assault Tuesday in relation to a Jan. 15 incident in which he applied a chokehold on a prisoner, who then fell to the ground. The prisoner, 35-year-old Frank Blair, suffered a cut to his mouth which required 15 stitches.
The video, taken from two angles, was played in court during the trial. It was released to the public on Friday.
In the video, Chong watched as Blair was fingerprinted by a jail guard.
Blair resists being fingerprinted for several minutes. Six minutes and 21 seconds into the video, Chong suddenly grabs Blair around the neck and applies a chokehold. Chong takes an unconscious Blair down to his knees, but then lets him fall, face-first, onto the concrete.
There is no sound, but during court testimony Blair admitted to using foul language while asking to fingerprint himself because his finger hurt from breaking it two months before.
Blair testified he told Chong: "F---off, you stupid Chink."
Once Blair was prone on the ground, Chong and the guard lifted him up, finished fingerprinting him and led him to cells. Blood is visible on the floor.
Chong and jail staff waited almost two hours before calling an ambulance.
In a statement, police Chief Jamie Graham said: "What is evident from the video is that Mr. Blair was agitated and continued to act in a manner that was resistant. What cannot be determined from the video are the additional and more subtle observations that Sgt. Chong made, and which caused him to believe that violence was imminent."
Blair, a drug addict with a long criminal record, was arrested early that morning because police believed he was breaching the curfew imposed as bail conditions. The curfew had been lifted, but the change was not put into the police information system.
A Police Act investigation into the incident with Blair resulted in Chong being found guilty of neglect of duty but not abuse of authority.
Graham said Chong was justified in using force but the type of force used was inappropriate.
Chong was given a suspended sentence and 12 months probation.
It was his second assault conviction. He pleaded guilty to assault in connection with a road-rage incident in June 2008, in which he tackled a pedestrian to the ground. He was given a conditional discharge, nine months probation and was ordered to undergo anger management.
ldickson@timescolonist.com
kderosa@timescolonist.com
We thought you might also be interested in..