After 15 years, Christopher Causton bows out as Oak Bay mayor
Nov 26 2011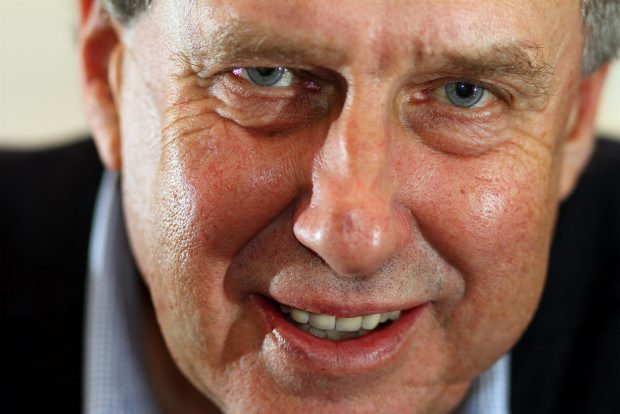 Mayor Christopher Causton will bid farewell to municipal politics on Monday.
Photograph by:
Bruce Stotesbury, timescolonist.com
Retiring Oak Bay Mayor Christopher Causton is used to hearing "no" from the community of which he's been mayor for the past 15 years.
The Penny Farthing pub, Demitasse bakery, Ottavio's, Winchester Gallery, Carlton House retirement home, a sports field instead of a curling rink, outdoor seating at Crumsby's Cupcake Cafe, lights on a soccer field — they're all well-used and a big part of the community. But many residents raged against them. And some of those people are now their best customers.
"In my 24 years on council, there hasn't been a single improvement in the municipality that I haven't had to fight for," Causton said as he enjoyed coffee at yet another place that neighbours didn't want but now seem to love — Pure Vanilla cafe.
"People have made a choice to get to live in Oak Bay and what they have, they like. So they don't want change. They will accept it, but they fight against it all the time."
Causton, retiring from municipal politics after 24 years, said he didn't find the attitude frustrating, but more of a challenge.
"I love it. I know if I get to the end point, the community will be better. I'm very clear on where I want to get to."
Causton's last public hearing was a long and contentious one, ending with council splitting 3-2 and refusing to grant variances needed for redevelopment of the Oak Bay Lodge property into a 320-bed complex care health facility. Causton voted to approve the variances, saying the facility is needed and that sometimes a community has to do what is for the greater good, and this was one of those times.
He and councillor John Herbert were outvoted by councillors Tara Ney, Hazel Braithwaite and mayor-elect Nils Jensen. A public meeting on the topic went five hours and Causton was ready to go longer, but the 250-plus audience tired before he did.
Causton's no stranger to contentious meetings. Hehas been chairman of the Capital Regional District board, as well as most of its committees.
In November 2001, he chaired a public hearing on the highly controversial Silver Spray development in East Sooke. Causton knew it would be a long night, so slept all day, got up at 4 p.m., drove to Sooke, ate a 6 p.m. breakfast and was ready to listen all night. People spoke until 4 a.m.
Metchosin Mayor John Ranns worked with Causton on various CRD committees, including the parks committee that instituted a rarity — a tax that people didn't seem to mind. The parks acquisition fund is used to buy park land throughout the region.
"He always has a mind on the bottom line but had a real vision, particularly for the park system," Ranns said. "He's a guy that when he speaks, you listen to him, even if you don't always agree."
Frank Leonard was elected mayor of Saanich in 1996, as was Causton in Oak Bay. The two worked together on the CRD board for years.
"He's a problem solver," Leonard said. "He can come into a difficult meeting and be on good terms with everyone at the end of the meeting."
Causton takes on problems big and small. At the Union of B.C. Municipalities, a meeting had gone off the rails. Causton was called in to deal with it. "They called me 'The Closer' after that," he laughed.
Decades in the tourism business have Causton paying attention to detail. He's up early every morning, reading the paper and drinking coffee in one of the several coffee houses Oak Bay now has (there were none when he started as mayor.)
The light in Starbucks on Oak Bay Avenue was too dim to read by, so Causton wrote to Starbucks CEO Howard Schultz.
Two weeks later, he got a letter back — and the lights were improved.
Causton, 64, does not plan to retire, but rather wants to use the "skills and connections I've made over the years" to more community use.
He jokes, sort of, that an ideal job for him would be doorman at the Oak Bay Beach Hotel when it opens. Another responsibility he'd like is revamping the Inner Harbour.
"I see a great role for me around the harbour," said Causton, noting his tourism and business background, and knowing "all the players at a provincial and municipal level, all the tourism players. I think that's an area where I can really help the region."
Causton had restaurants near the harbour for 20 years.
He wouldn't say what his plans for the harbour would be, but mentioned soon after that a plan for a performing arts centre proposed a decade ago at Ship Point still hangs on his office wall.
He'd also like to help with integrated policing along the model Oak Bay has with Saanich. Oak Bay is essentially a community police station, operating from 8:30 a.m. to 4:30 p.m., with members going out to calls, but Saanich called in for everything else, even dispatch.
Causton thinks that contract model could work well with other municipalities as well.
His last day in the mayor's chair is Monday.
kwestad@timescolonist.com
We thought you might also be interested in..
Notice
: Undefined index: event in
/home/viccity/public_html/v2/content.php
on line
67