Campaigners question whether offender should keep his job
Nov 26 2011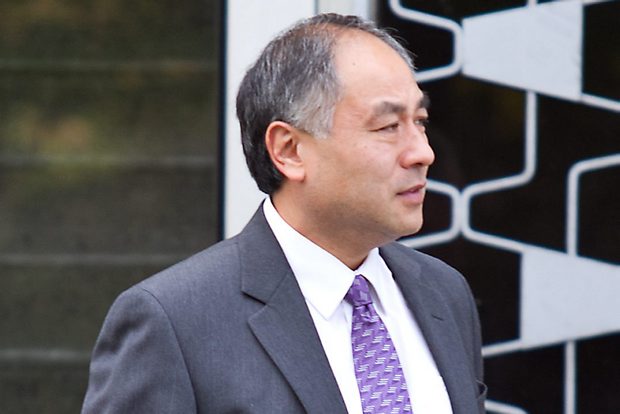 Sgt. George Chong leaves court the Victoria courthouse in this file photo from May 4, 2011.
Photograph by:
Darren Stone, timescolonist.com
The case of Victoria police Sgt. George Chong, who kept his job despite being twice found guilty for assault, is just the latest example of police officers being held to a different standard then the public, the B.C. Civil Liberties Association says.
After Chong was given a suspended sentence and 12-months probation on Tuesday, police Chief Jamie Graham said Chong will not be fired, even though it was the second time the veteran officer has been found guilty of assault.
"There are very few jobs you can keep having a public trust role while being repeatedly convicted of criminal offences," said David Eby, executive director of the B.C. Civil Liberties Association. "I don't understand why policing would be the exception to that rule."
There are many cases in B.C. in which police officers convicted of crimes have kept their jobs, despite the fact that most departments would not hire someone with a criminal record.
The RCMP's national hiring policy states the force does not recommend processing an application if the person has "an unpardoned criminal conviction in Canada or any other country or who has criminal charges pending before the court."
According to Saanich police's recruiting page, one of the basic requirements is that all applicants cannot have a criminal record.
Victoria police Insp. Steve Ing said it is "very unlikely for us to hire someone with a criminal record." But he added that each individual is looked at on a caseby-case basis.
The department would not rule out hiring a serving police officer from another department who had criminal charges as a result of on-duty conduct, Ing said.
"Society puts police officers in situations where they are expected to use force," Ing said.
"Those decisions then have to be made in split seconds."
Chong pleaded guilty to an offduty assault in relation to a roadrage incident in June 2008, in which Chong tackled a pedestrian to the ground. He was given a conditional discharge, nine months probation and was ordered to undergo anger management.
A Police Act investigation into the incident with Blair, led by Graham, resulted in Chong being found guilty of neglect of duty but not abuse of authority.
Graham said Tuesday he does not believe Chong is a risk to the public, which is why he can return to work.
The police complaint commissioner still has to review Graham's Police Act investigation, as well as Judge Herb Weitzel's court decision. If the commissioner disagrees with Graham's discipline, it can order a review on the record or a public hearing.
Eby said it is a double standard that some people are turned down for volunteer positions or internships if they have a criminal record but police officers can hold their job with a criminal record.
"What we have found is that officers who have recurring problems with the public, up to and including being charged criminally, are not being removed from service as police officers," Eby said. He cited several examples within the RCMP.
"The issue becomes a serious one when these members are causing injury to the public."
We thought you might also be interested in..