Event organizer turns hand to amalgamation
Nov 26 2011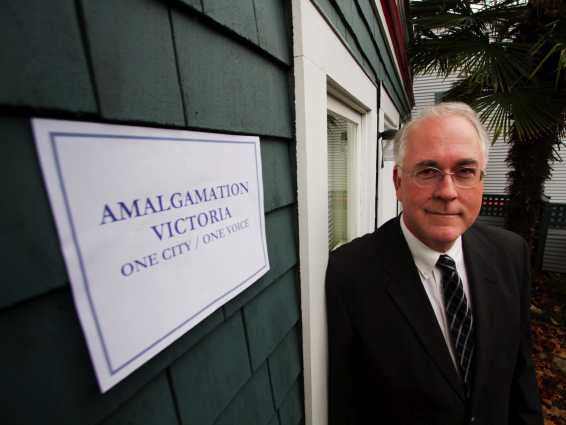 John Vickers hopes an amalgamation strategy can be mapped out in the new year.
Photograph by:
Darren Stone, timescolonist.com
John Vickers, the man behind last year's Victoria International Buskers Festival, is turning his organizational skills to municipal amalgamation.
Vickers, known for his pumpkin art, the buskers festival and the Victoria Masquerade Ball, is working to create a community group dedicated to the idea of pushing amalgamation to the front burner and keeping the heat up.
The hope would be that some sort of citizens' initiative on amalgamation would make it to the next municipal ballot in three year's time.
"About a year and a half ago, I started putting together an effort whereby we would put together a group representing people from all 13 municipalities whereby we would like to create an initiative where we would keep the focus on amalgamation kind of front and centre in the community rather than have it come and go," Vickers said Friday.
"Primarily it's to provoke more and continued conversation on the whole amalgamation effort."
Vickers said the best bet might be to focus on the four core municipalities to see what could be done there. "We have four city halls within about 10 kilometres of the Blue Bridge," he said. "The view is if we could create a united core it would go a long way toward taking it beyond."
Vickers said he hopes that, early in the new year, a board of directors can be found and strategies mapped out.
Victoria Coun. Chris Coleman thinks the idea might have traction.
"Just going door to door in the last election, there were more people — albeit in the city of Victoria — but there were more people who were asking about amalgamation and how do we get better regional co-operation and how do we aggregate services together [than in the past]," Coleman said.
"Those questions were plentiful on the doorstep where they haven't been in the past."
Coleman said he doesn't know how broad-based interest is throughout the region. "My suspicion is it's quite broad-based."
Saanich Mayor Frank Leonard said the idea of amalgamation didn't seem to attract much favour when raised at all-candidate forums he participated in.
He said he intends to focus on regional co-operation and integration.
"[Victoria Mayor] Dean Fortin and I have already talked about the next joint council meeting between Victoria and Saanich. Our two administrators met this week about the agenda," Leonard said.
Esquimalt Mayor Barb Desjardins said she has consistently maintained if Esquimalt residents have an interest in looking at amalgamation that she would follow up on it.
"That being said, nobody ever came through my door and asked me to do that," she said, adding that residents like being close to their local government.
"With amalgamation — and this is what we have found difficult in our policing — that ability to provide input and have that direct result affecting us, is removed," Desjardins said.
Meanwhile, Coleman said if anyone can keep the issue alive, Vickers can.
"Everybody said the busker festival wouldn't happen but it did last summer by the force of John's personality as much as anything else," Coleman said.
bcleverley@timescolonist.com
We thought you might also be interested in..