Do not feed the squirrels, by order of Esquimalt council
Nov 26 2011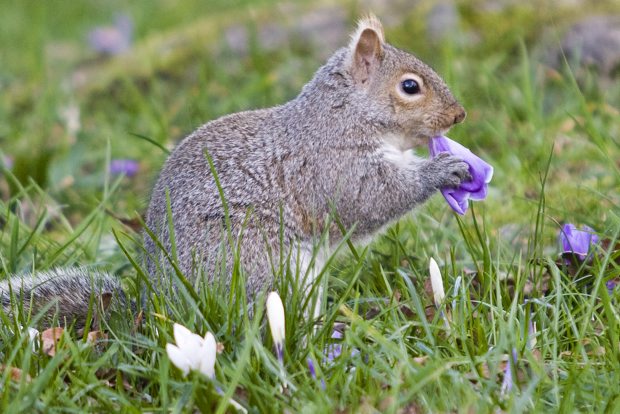 Grey squirrels: A problem on Rockcrest Avenue.
Photograph by:
., timescolonist.com files
Esquimalt will soon have a new bylaw on the books that takes direct aim at the feeding of grey squirrels.
The bylaw will prohibit the feeding of squirrels or deer or setting up feeding stations for them.
"We recognize that these are difficult things to enforce, but the province gave us the go ahead to be able to have this bylaw," Mayor Barb Desjardins said.
"The difficulty is, how do you enforce it? Having the feeding station and being able to connect someone to it. And . . . we can't enforce a bylaw against feeding a red squirrel [which is indigenous] but we can against a grey squirrel.
"At least having the bylaw you have some ability to go back to residents and say: 'Look, this is not appropriate. There are many reasons why and you are on notice that we as a community don't support feeding these two groups."
Violations of the bylaw, which she expects will be given final reading in December or January, are subject to a $100 fine.
The furry-tailed rodents have become such a problem — particularly in the 1200 block of Esquimalt's Rockcrest Avenue — that in September residents pleaded with Esquimalt councillors to take action.
Judging from the number of squirrels scurrying about with peanuts and the empty shells littering the neighbourhood, it was apparent to residents that a Rockcrest household had set up a feeding station.
The squirrels have made themselves quite at home. One woman complained that, on at least three occasions, squirrels or rats had got into her attic.
Another resident complained of squirrels stuffing peanuts into the his car's bumper, making nasty work of the paint job.
Dr. Steven Kleinman, of the ad hoc neighbourhood group RATS (Residents Against Troublesome Squirrels) is pleased the municipal council has moved so quickly to draft the bylaw.
But whether or not the bylaw will help ease residents concerns about the grey squirrels is yet to be seen.
"There has been some discussion that we can put a bylaw on the books but it's going to be very difficult to enforce," Kleinman said.
He said it was important that the bylaw included feeding and the establishment of feeding stations.
"Some of the discussion was if we put a bylaw in nobody is likely to actually observe somebody feeding the animal. Part of our contention was people had set up a feeding station so they did incorporate that aspect into the bill," Kleinman said.
"It's kind of like parking your car in a no-parking zone — you don't have to observe the person who did it, you just have to observe that the car is where it's not supposed to be."
Rockcrest resident John Willow said that, despite residents' concerns, one of his neighbours has a back-yard feeding station for squirrels.
"It's leading not just to a proliferation of animals all around, but peanut shells all over the place. More importantly, feeding a rodent species causes all sorts of problems for some of the other households around here," he said. "Again, let's leave wildlife to find the natural balance."
Trapping or culling the grey squirrels was never part of the discussions, Desjardins said.
bcleverley@timescolonist.com
We thought you might also be interested in..