Esquimalt naval base could spark rush-hour scramble
Nov 26 2011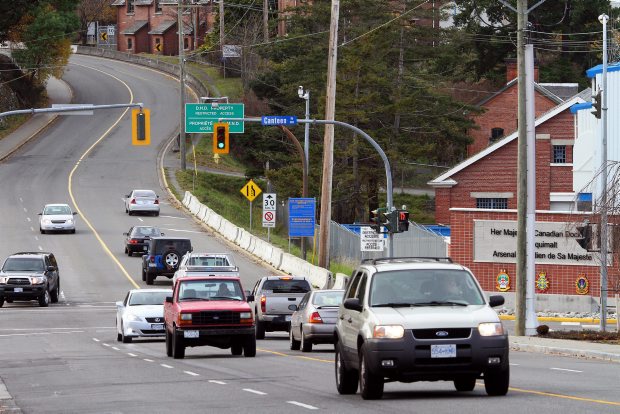 Entrance to CFB Esquimalt, on Esquimalt Road near Canteen Road.
Photograph by:
Bruce Stotesbury, timescolonist.com
The afternoon rush hour in Esquimalt and the West Shore could be more
difficult starting Monday, following a military request to staff that emphasizes they not leave CFB Esquimalt until their shifts are complete.
That means the vast majority of the estimated 4,000 Department of National Defence workers who commute from Esquimalt to the West Shore will all be on the journey at once, most at
4 p.m.
An email to staff from Commodore Peter Ellis says that "sliders" and "modified daily routines" are cancelled. These allowed commanding officers to let some staff off early. Some people used them to get a head start on the base traffic that has jammed Admirals Road and the Old Island Highway for decades.
Core hours at the base are from 8 a.m. to 4 p.m. The memo emphasizes that maximum work can be done with all personnel working the full shift.
"It is a reminder of the way it should be," said DND Lt.-Cmdr. Nathalie Garcia.
But staggering when employees leave a major employment centre such as CFB Esquimalt could greatly help with traffic congestion, said transportation consultant Chris Foord.
"One of the objectives in transportation planning is trying to avoid sharp peaks, where for 45 minutes or so there are very large number of vehicles pouring onto the road," Foord said.
Esquimalt Mayor Barb Desjardins said she doesn't see the reminder as causing more difficulty in the already trying commute, because it's still the same volume of vehicles.
The number of people who were given sliders or the modified daily routines isn't known.
"The number of cars is the same," Desjardins said. "The bottleneck is the same. It may have a stronger impact at a certain time but we'll have to see how it plays out."
The bottleneck happens every weekday between 3:30 p.m. and 5:30 p.m., she said, and will get more congested in the next two years with Seaspan's successful bid for a shipbuilding contract, as well as replacement of the Craigflower Bridge.
"We are seeing growth in this little corner that is going to impact traffic in several municipalities," Desjardins said.
"We have to have a plan in place to deal with that flow of people."
It shows yet again that starting a commuter service on the E&N rail line connecting Esquimalt to the West Shore should be a priority for the region, Desjardins said.
Much attention is paid to a proposal for light rail transit on Douglas Street but that doesn't take into the DND in Esquimalt, one of the region's largest employers, she said.
About 6,000 people work there, with more than half commuting to the West Shore.
kwestad@timescolonist.com
We thought you might also be interested in..