Fundraiser zooms in on cancer
Nov 27 2011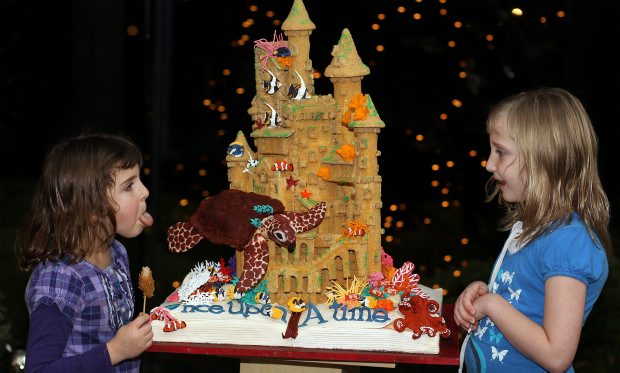 Kaityln McKellar, left, and sister Kendalyn discuss the castle "Poseidon's Playground" sponsored by Melanie Lonsdale. The gingerbread house is on display at The Inn at Laurel Point as the hotel presents its third annual Great Gingerbread Showcase, which is also a fundraiser for Habitat for Humanity Victoria
Photograph by:
Bruce Stotesbury, timescolonist.com
The Jingle Mingle cocktail party has an important goal this year - raise as much money as possible to fund a state-of-the-art robotic microscope for researchers at the B.C. Cancer Agency's Vancouver Island Centre.
Organizers call the fundraising element of the Dec. 7 event Equip-a-Need.
The microscope on their wish list greatly enhances researchers' ability to do their work, giving them a tool that can analyze up to 300,000 cells in 15 minutes. With current equipment, the same task takes six weeks.
Dr. Brad Nelson, director of the cancer centre's Deeley Research Centre, said the microscope "will help us find answers that will transform immunotherapy on Vancouver Island, benefiting patients right here in our community."
The live and silent auctions at Jingle Mingle will feature impressive items like a trip for four to New York City, a meet-and-greet with the Vancouver Canucks and a car - a new Hyundai Accent donated by Jo Campbell.
The family of the late Alex Campbell is much involved in the annual event. In addition to the efforts of his wife Jo Campbell, daughter Bonnie is chairing the Jingle Mingle organizing committee.
"Our entire family is committed to the important work that B.C. Cancer Agency researchers are doing every day on Vancouver Island," Jo Campbell said in a statement.
New to the evening this year is a limited-seating Jingle Soiree dinner following the cocktail gathering.
The dinner includes a performance by Ken Lavigne.
Jingle Mingle has raised $450,000 for cancer research since 2007.
Tickets for Jingle Mingle are $150 per person, while the Jingle Soiree is $500 per person. Contact the B.C. Cancer Foundation at 250519-5550 or go to bccancerfoundation.com.
SHOPPERS SHARE THE GIFT OF MUSIC
Capital Iron customers can share the gift of Christmas music by purchasing a special seasonal CD.
The downtown store has donated 700 CDs and will be selling them to support Our Place, with all proceeds going to the Pandora Street centre and its efforts to provide services to the city's poor and homeless. The CD sells for $5, and includes Christmas classics sung by the likes of Bing Crosby, Perry Como and Frank Sinatra.
Island Graphics donated its services for the CD's cover design, and 100.3 the Q will be doing radio promotion.
Our Place executive director Sandra Danco said Capital Iron is " a wonderful community partner." She said store administration was aware of the agency's increased needs during the holiday season and took the initiative to do something to help.
MISTLETOE GALA AIDS MS FIGHT
Two friends who simply want to make a difference are back with the Mistletoe Project again this year.
Erin Smith and Donald Peterson have raised more than $25,000 with the event over the past nine years, and are intent on adding a significant amount to that total in 2011. Just as they did in 2010, they will be donating the proceeds to the Multiple Sclerosis Society of Canada.
This year's Mistletoe Project gala will be Dec. 3 at the Victoria Event Centre, and will feature live music, food, door prizes and a silent auction. Tickets are $25, and include a beverage from Vancouver Island Brewery.
Smith said she started the Mistletoe Project as a small get-together for family and friends to collect donations for the Mustard Seed Food Bank.
The event has grown and various charities have been supported since then, with Peterson coming on board in 2008.
Contact Smith at 250-213-7054 or Peterson at 250-882-2694. On the web: themistletoeproject.ca
SEASONAL DINNER FOR UP TO 1,000
Preparation continues for the 2011 Christmas Spirit Christmas Dinner, which has been bringing people together for 20 years.
It's a big job to organize the popular community event, with up to 1,000 people expected to attend, but co-ordinator Christina Parkhurst makes it happen with the help of generous donors and many volunteers.
Still, more donors and volunteers are always needed, and Parkhurst is inviting anyone who would like to get involved to attend a meeting Dec. 4 or 11.
Both sessions will run from 2: 30-4 p.m. on the second floor of the McDonald's at Shelbourne Street and Cedar Hill Cross Road.
The final pre-dinner meeting will be Dec. 17 at a yet-to-be-determined location.
This year's dinner will be held on Boxing Day at Glad Tidings Church, with sittings at noon and 3 p.m.
Prospective donors and volunteers are asked to email xmasdins@telus.net. Parkhurst can also be reached at 250-472-1040.
A TASTY LOOK AT FOOD SECURITY
Making Food Matter!: Taking the Next Bite. That's the title of a "local food gala" being held Tuesday in the Atrium complex on Blanshard Street.
Author and gardener Carolyn Herriot will host the 7-9 p.m. event, while former NDP MLA and onetime minister of agriculture Corky Evans is the keynote speaker.
The evening will feature the findings contained in a report from the Vancouver Island Local Food Project, an effort that has involved all of the Island's university campuses, and has input from 20 researchers, 58 students and 18 food-community groups.
The report, called Strategies for Increasing Food Security on Vancouver Island, has been two years in the making.
The event will also raise money for the Lifecycles Project Society, a local group dedicated to food issues and sustainability. Admission is by donation, with a $20 contribution suggested. Local food tastings will be offered.
Anyone planning to attend is asked to RSVP so that organizers can estimate the size of the crowd. Call 250-744-9304 or email ocbrreg@uvic.ca.
FASHION GOES TO THE DOGS
Human models and their canine friends will be at Outlooks for Men on Thursday for the fourth annual Man and His Dog Fashion Show.
Eleven models will be matched with their own dogs for the evening, while four of them will be accompanied by pooches from Victoria Adoptables, an organization that finds homes for dogs and cats.
All money raised is going to Victoria Adoptables and to Turtle Gardens, a facility in northern B.C. that rescues over 400 dogs each year.
Tickets are $25 and are available at Outlooks for Men (534 Yates St.), online at outlooksformen.com or by calling 250-384-2848.
jwbell@timescolonist.com
We thought you might also be interested in..