Timing 'couldn't be worse' for fuel spill into Colquitz Creek
Nov 27 2011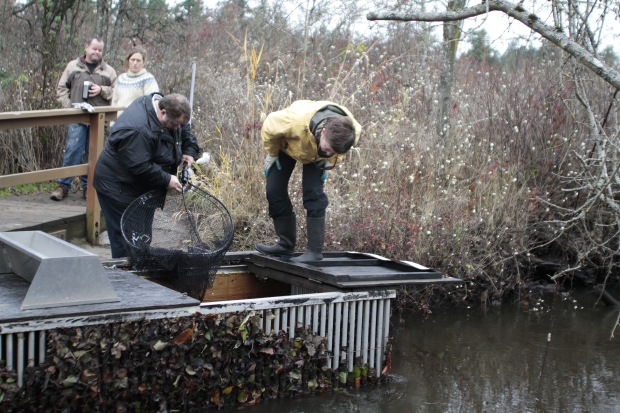 Chris Bos, left, and Dorothy Chambers check for dead fish in the Colquitz river on November 26, 2011
Photograph by:
Lyle Stafford, timescolonist.com
The timing of a fuel spill into Colquitz Creek at the height of a salmon run is "just awful," said Chris Bos, a member of the Esquimalt Anglers and one of the volunteers who keep count of the migrating fish.
"You can't be more terrified when you find out there's a spill that could be 1,000 litres of oil," said Bos, adding that the timing couldn't be worse.
On Friday, Saanich public works identified the home in the Carey Road area from where 1,000 litres of home heating oil had leaked. The fuel made its way into the storm sewer and then into Swan Creek and Colquitz Creek.
Bos and others have been stationed at a fence near Tillicum Mall, where they've been each day of the salmon run counting fish heading up to migrate. On Tuesday, they heard reports that people upstream had smelled fuel and noticed a sheen on the river.
"We hadn't smelled anything at the fence," said Bos.
Over the next few days, heavy rain flushed the fuel downstream to the fence, and Bos was told there was "an incredibly powerful smell of oil."
A couple of fish were in distress, he said.
The spill "is happening at the most critical time for these fish, when they're coming through the creek," said Bos. "I'm really concerned."
The fish, which weigh up to nine kilograms, are a natural, wild run of fish.
"This has been a native wild coho stream since time immemorial and a lot of people had no idea how successful it was," Bos said.
Part of the risk of being an urban stream is being vulnerable to contamination, he said.
Some fish do spawn downstream of the spill site "but most of the good spawning habitat is above that," said Bos.
"So if those fish that have gone through in the last few days are above the spill area, there shouldn't be a problem."
However, the volunteers who watch over the fish are "really nervous," Bos said.
"One of them phoned me up and said 'I feel sick to my stomach,' " he said.
Normally, many of the salmon would have moved upstream by now. "Usually by mid-October, we're at the peak of the run and it's two or three weeks late because of the low water.
"Let's hope we haven't destroyed the run this year."
The spill is under investigation by the Department of Fisheries and Oceans. Saanich public works identified the source of the spill as a damaged underground pipe at a home. The homeowner is responsible for the cleanup costs.
smcculloch@timescolonist.com
We thought you might also be interested in..