Turtle makes first known visit to B.C
Nov 27 2011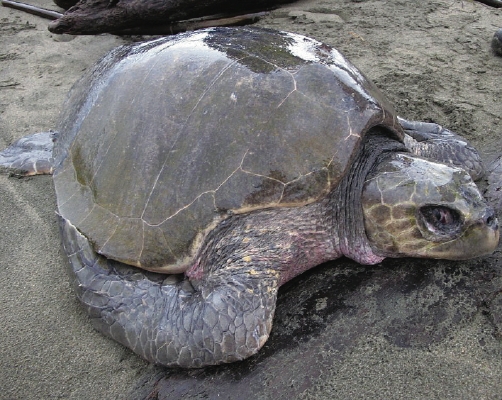 An olive ridley turtle washed up on Wickaninnish Beach (November, 2011)
Photograph by:
Courtesy, Parks Canada
A sea turtle, never before seen in B.C. waters, has washed up on Wickaninnish Beach.
Although the olive ridley sea turtle could not be saved, biologists believe others may be in the area.
"This is really exciting. It's the first confirmed sighting in B.C. waters," said Jennifer Yakimishyn, species at risk recovery planner at Pacific Rim National Park Reserve.
Olive ridleys, which are listed in the United States as threatened, are warm water turtles, but there have been sightings in Washington and Alaska, so it was suspected there could be some in B.C. waters, Yakimishyn said.
"So this is a pretty significant find. It is the third [species of] turtle found in B.C. waters," she said. "My email box is full of messages from excited biologists. It's causing a real stir in the science world."
The other two species found in B.C. are green and leatherback turtles, but neither is common.
Lisa Spaven, Fisheries and Oceans Marine Mammal Response biologist, said the closest nesting beaches for olive ridley turtles are Mexico and California. Like all sea turtles, populations are endangered because of years of hunting.
Olive ridley turtles are not able to withstand cold temperatures and the animal was not only badly injured, but possibly "cold-stunned," when it was found, Spaven said.
"We haven't yet determined what caused its death. There were a couple of lacerations and chunks of shell were missing," she said.
The injured turtle was reported to Parks Canada Tuesday by a park visitor and Yakimishyn raced out to the beach.
"It was on the edge of a log area, just lying there and not moving," she said.
"There was a large hole on the left shoulder and the shell was crushed on one side. You could see right in where its organs are, and it looked like a pretty fatal injury," she said.
The turtle was still alive, so it was transported to Vancouver Aquarium Marine Science Centre where it was treated, but it died Wednesday.
A necropsy found the turtle was a subadult female that died of blunt force trauma.
Two small pieces of hard plastic were found in the turtle's stomach. Although they did not cause the death, they should serve as a reminder that marine debris are a significant threat to sea turtles, Spaven said.
"Olive ridley turtles eat everything and bits of plastic look like something crunchy and colourful, like crab or shrimp." she said.
jlavoie@timescolonist.com
We thought you might also be interested in..