Mudslide closes section of Highway 19 near Port McNeill
Nov 28 2011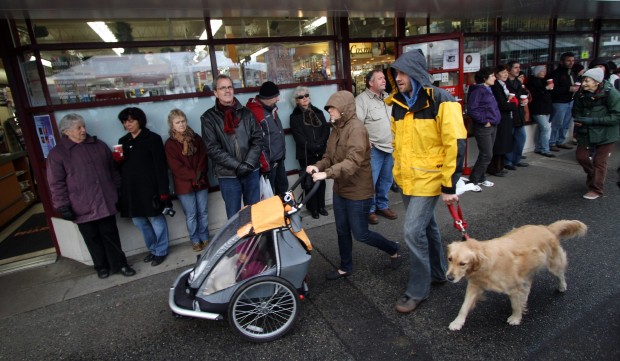 Compared with the central and northern parts of the Island this weekend, the capital region got off relatively lightly on the precipitation front. But there was still enough of a shower during the Light Up celebrations kicking off Oak Bay Christmas Festival on Sunday, Nov. 27, to send some people scurrying for shelter.
Photograph by:
Adrian Lam, Times Colonist
Heavy rain wreaked havoc on parts of Vancouver Island this weekend.
Rainfall eased up early Sunday and into the afternoon, returning river levels to more moderate levels, but for some areas, the damage had already been done.
A mudslide near Port McNeill closed off a section of Highway 19. Traffic was shut down in both directions for about 115 kilometres of the highway between the Sayward Road and Beaver Code junctions.
It is not expected to open again until Tuesday morning, according to traffic reports.
The B.C. River Forecast Centre ended its flood watch for the Oyster River and Tsolum River on Sunday. It also cancelled its stream-flow advisory for east Vancouver Island and south Vancouver Island.
Cowichan Bay Fire Rescue helped a man and his poodle from his vehicle, which had stalled because of rising water on Cowichan Bay Road near the Trans-Canada Highway.
Crews drove in with bigger vehicles to help the man from his vehicle, according to fire rescue workers.
DriveBC.ca had reports of significant water pooling on several stretches of highway as of Sunday evening. Many of those dangerous stretches were between Campbell River and Parksville.
Up to 70 millimetres of rain fell in less than 12 hours on Saturday in some areas of the west coast and northern Vancouver Island. Along the east coast of the Island, rain ranged from 10 mm to 30 mm.
On Saturday, Environment Canada issued a rainfall warning for west and north Vancouver Island and the Central Coast. A weather station in Bowser, near Qualicum Beach, measured 124 mm of rain in about 36 hours, according to Environment Canada.
For the Victoria area, Environment Canada is forecasting that Monday will be mainly cloudy, with a high of 8. Tuesday is to bring periods of rain, with a high of 6. Wednesday is expected to be sunny, with a high of 7.
dspalding@timescolonist.com
We thought you might also be interested in..