Victim mourned as man faces murder charge in fatal downtown assault
Nov 28 2011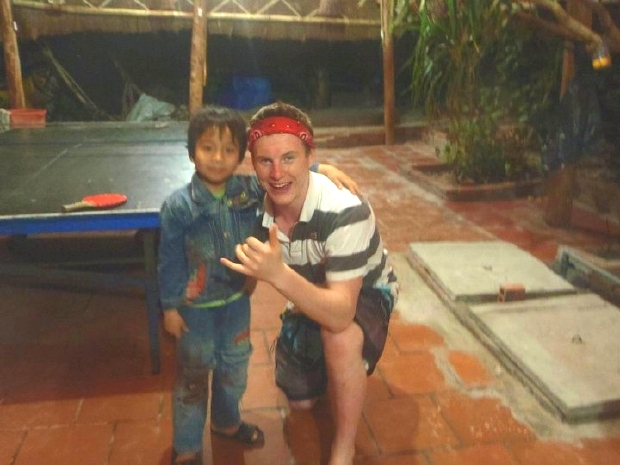 Tyler Noble during a trip to Vietnam
Photograph by:
Courtesy, Submitted
Messages of support continue to spread through social-media sites as family and friends mourn the loss of 20-year-old Tyler Noble, who died Saturday after an altercation with a man in downtown Victoria.
A friend posted a slideshow of pictures on YouTube. The message accompanying the "RIP Nobes" tribute states that Noble was "the biggest beauty I have ever known."
A 24-year-old Victoria man faces charges of murder after turning himself into police four hours after the early-morning altercation. A court-imposed publication ban prevents the release of his name, Victoria police said Sunday afternoon.
There are few details about what happened to Noble about 2:30 a.m. at the intersection of Douglas and View streets. He died Saturday afternoon at Victoria General Hospital.
Victoria police and the Vancouver Island Integrated Major Crimes Unit homicide unit are investigating the circumstances.
The accused had a telebail hearing Saturday night. He was remanded in custody until a court appearance set for Tuesday. The homicide was Victoria's third of 2011.
Eric Faust said Noble had been his best friend since they started playing hockey together. They met during tryouts five years ago for a team in Mill Bay.
Faust shared a few stories on Sunday about Noble, taking the time to reflect on the friendship they cultivated.
"He'd go into the corners, he'd fight the other team's biggest guy — whatever it took to push his team to victory," Faust said. "Tyler Noble was by far one of the best people and one of the best friends I have or will ever meet in my life."
Faust said he has been told by friends who were with Noble Saturday that Noble and another man were a "trash-talking" while walking from a club. Then things escalated.
"Tyler got sucker-punched and fell awkwardly — and that was it," Faust said.
dspalding@timescolonist.com
To see the YouTube video with photos of Noble posted by a friend, click here.
We thought you might also be interested in..