Cyclist dies after being run over by semi-trailer on Burnside Road
Nov 29 2011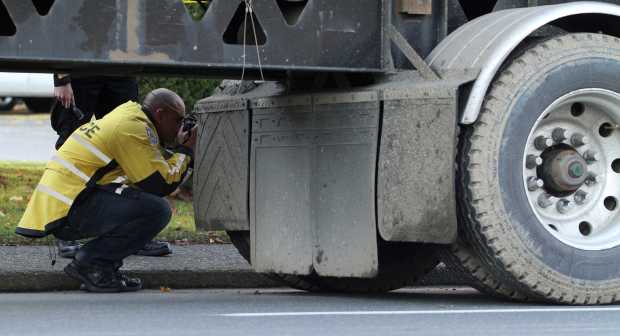 Victoria police investigate the scene of a fatal collision between a cyclist and a semi-trialer on Burnside Road, just past the Harriet Road intersection on Monday Nov. 28, 2011.
Photograph by:
Adrian Lam, timescolonist.com
Victoria, B.C. - A male cyclist in his 20s is dead after being run over by a semi-trailer truck Monday afternoon on Burnside Road.
The incident happened about 2 p.m. as the cyclist and truck were heading southeast on Burnside Road, just past the Harriet Road intersection.
It appears the cyclist was clipped by the second trailer as the truck passed the intersection, Victoria police acting Sgt. Kristi Ross said.
Seconds after the truck ran over the cyclist, off-duty paramedic Sarah Hagell stopped her car and rushed to the aid of the critically injured man.
"I saw the gentleman lying unconscious on the ground," she said. "I rolled him over and there was no pulse so I started CPR."
She said he had severe trauma to his face and chest.
About a minute later, B.C. Ambulance paramedics arrived and Hagell continued cardiopulmonary resuscitation as the man was loaded into the ambulance.
The cyclist was taken to Victoria General Hospital, where he died of his injuries shortly after.
At the accident scene Monday afternoon, a silver bike lay crushed on the sidewalk, with its seat ripped off. The cyclist's helmet also lay nearby.
The intersection was blocked off for hours as officers from Victoria and Saanich police investigated the crash on the border of the two municipalities.
A Victoria crash team ended up taking over the investigation because it happened in their jurisdiction.
The truck driver, who works for South Island Aggregates, was taken to the police station to provide a statement, Ross said.
"The driver has been extremely co-operative. He's extremely upset," she said. "We've got some victim services and family members providing support."
Several witnesses at the bus stop were also co-operative in providing information, Ross said.
It's not clear whether the driver will face charges.
Investigators were trying to confirm the victim's identity and contact his next of kin.
This was Victoria's second traffic fatality of the year.
kderosa@timescolonist.com
We thought you might also be interested in..