CPR Steamship Terminal advice: 'Get on with it'
Nov 29 2011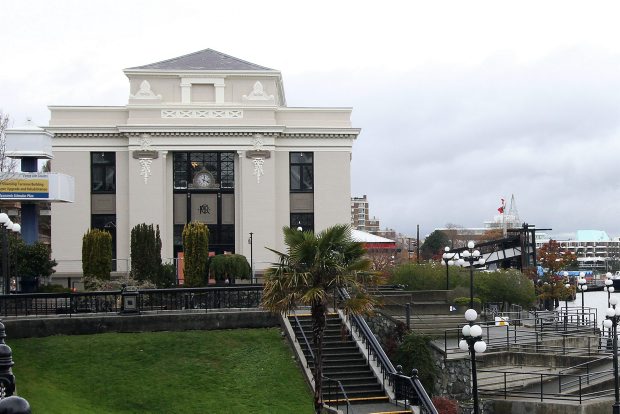 CPR Steamship Terminal: Four bids under review.
Photograph by:
Adrian Lam, timescolonist.com
If it is determined on Wednesday that the CPR Steamship Terminal building should become a ferry terminal, the two involved authorities should forget about leasing it and get on with filling it with complementary businesses, an interested observer says.
"They should just get on with it," said developer Mohan Jawl, who was on a high-profile task force on the Belleville terminal in 2007 that delivered a redevelopment plan.
The likely next tenant for the stately, 87-year-old landmark on Belleville Street will be revealed Wednesday at 11:30 a.m., the Provincial Capital Commission — the building's landlord —has announced.
There are four bidders for the space. The Maritime Museum of B.C. hopes to relocate from Bastion Square. Businessman Bob Wright proposes a history-based tourist attraction in the building.
The Greater Victoria Harbour Authority proposes to lease the building and sublet to tenants, with the long-term goal of including it in plans for redevelopment of the property, including the ferry terminal.
Moxie's Classic Grill was revealed as the fourth bidder seeking to lease the building. But it isn't clear yet what the company has in mind for the site.
Over the last two decades, little or nothing has come of numerous plans and studies to redevelop Victoria's harbourfront and the Belleville terminal.
Jawl suggested that if the building's intended use will be as a ferry terminal, the commission and the Greater Victoria Harbour Authority have to get on with developing it in that direction now — putting in such ancillary services as a restaurant, for example.
The harbour authority operates the Port of Victoria.
Former Victoria mayor Alan Lowe, who helped create the blue-ribbon 2007 panel, said: "The CPR building is only a part of that entire tract of land, and whatever is determined to be the best fit in that building should be a catalyst for the development of the rest of the site."
ceharnett@timescolonist.com
We thought you might also be interested in..
Notice
: Undefined index: event in
/home/viccity/public_html/v2/content.php
on line
67