Friends say accused in fatal downtown assault 'the last to start a fight'
Nov 29 2011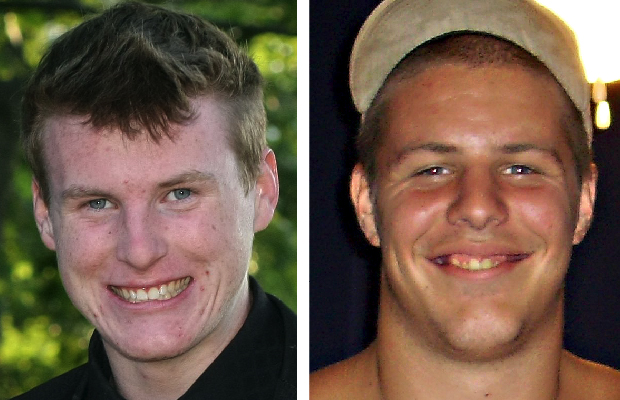 Victim Tyler Noble, left, and accused killer Brandon Huth.
Photograph by:
., timescolonist.com; via Facebook
A brief but deadly fight in downtown Victoria on the weekend has rocked two families, leaving a 20-year-old man dead and another charged with second-degree murder.
Family and friends came to the defence of Brandon Huth, 24, accused of killing Shawnigan Lake man Tyler Noble early Saturday.
Noble was punched at the corner of View and Broad streets after leaving a downtown club. Witnesses say he fell awkwardly, hitting his head. He died hours later in Victoria General Hospital.
Huth's father, Lawrence, said his son called to tell him what had happened. He drove to his son's house, picked him up and the two went straight to the Victoria police station.
"They put him in another room and an hour later they came back and said they were charging him with murder," Lawrence Huth said. "I just broke down right there. I didn't know what to say. I wasn't allowed to see him. They just took him away."
Lawrence Huth, who has been a special constable for the Victoria police and has worked in the city's jail cells, said his son breaks down in tears any time Noble's death is mentioned.
Eric Faust knows both the victim and the accused. He and Noble met about five years ago playing hockey and became close friends. Huth was a bouncer at some of the night clubs where Faust's entertainment company hosted parties.
"Brandon was a really good guy. He was the first to stick up for a friend, but the last to start a fight," he said. "It's really odd that it happened to those two guys."
Robbie Burner has known Huth since Grade 5 when the two lived in Penticton.
"It makes me sick to my stomach. I can't believe it. He's not a cruel person," Burner said. "I feel for the family of this other guy [Noble], but I know Brandon would not have done that on purpose. Brandon's got a big heart. He's an emotional guy. He's going to need some support."
Huth worked as a forest firefighter. Noble worked as a drywaller. In their youth, Huth played lacrosse, Noble played hockey.
Friends and family say they would easily drop the gloves in a game, but those fights were always in defence of teammates.
One of Noble's best friends, Jarred Meservia, said while he doesn't know the accused, he feels bad for him. "At the end of the day, it ruins two families, right? He [could] serve time for getting into a fist fight," said Meservia. "It's just a wrong situation. It could have happened to any of us at any point of time."
Meservia, 20, spent the night partying with Noble and other friends at Boutique Lounge on Broad Street. He said Noble began exchanging barbs with a man outside the club and it continued as the two groups of friends walked toward McDonald's on Douglas Street.
The next morning, Meservia heard Noble was critically injured.
He and dozens of friends and family members rushed to hospital to see Noble before he died.
"He looked like Tyler, he didn't look beat up. There were tubes all over. The nurse described it as, he's just a shell laying there. He was completely brain dead."
Angie Tytula, a family friend who has watched Noble grow up, said his parents Ken and Laurie and younger sister Samantha are trying to cope with the loss.
"They're up and down. Our heads are all over," Tytula said from the Nobles' Mill Bay cabin. "Laurie said Sunday that two families are affected. But they have their son, we don't."
dspalding@timescolonist.com
kderosa@timescolonist.com
To see the YouTube video with photos of Noble posted by a friend, click here.
We thought you might also be interested in..