Winning bid for CPR Steamship Terminal to be announced Wednesday
Nov 30 2011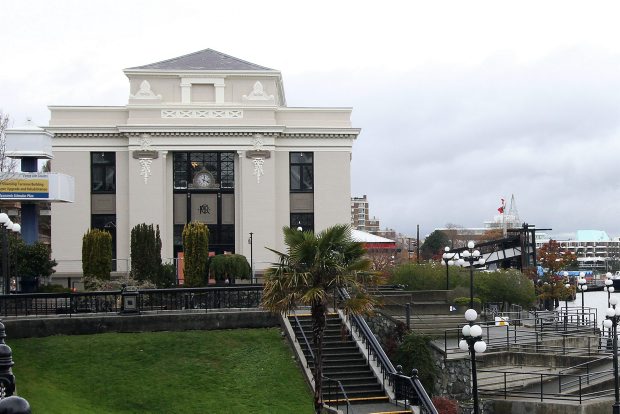 CPR Steamship Terminal
Photograph by:
Adrian Lam, timescolonist.com
Moxie's Classic Grill would set up more than 400 seats indoors and outdoors on a waterfront patio at the CPR Steamship Terminal building if it wins a lease for the historic property.
The public finds out Wednesday morning which of four bidders will lease the 1924 building at 470 Belleville St. The decision will be announced after a meeting of the Provincial Capital Commission's board.
Oak Bay Marine Group founder Bob Wright, also a bidder for a lease, has a "magnificent" new design at his neighbouring Pacific Undersea Gardens, next to the CPR building, said Terry Farmer, who chaired a 2007 task force on potential uses for Belleville Street lands.
Wright, who could not be reached Tuesday, envisions a high-tech destination showcasing Victoria, B.C. and First Nations history in the CPR building.
Also bidding is the Maritime Museum of B.C., which dreams of moving out of its longtime Bastion Square base to a bigger site where it can enhance, update and expand its displays. Saanich council on Monday unanimously endorsed the museum's bid. Coun. Vic Derman said it's a natural fit in that building.
The Greater Victoria Harbour Authority also wants a lease, proposing a long-term plan to use the CPR building as the entrance to a new terminal on the Belleville Lands. Initially, the harbour authority would sublet the building.
A $5-million renovation has just been completed on the four-level CPR building, which houses 1,951 square metres of rentable space. Designed by architects P.L. James and Francis Rattenbury, it is next to the Coho Victoria Clipper ferry.
Moxie's would put in about 275 seats on the ground level and use half the lower level for a kitchen and services, company president Laurids Skaarup said from Calgary Tuesday. Another 150 seats would be outdoors on a waterfront patio, he said.
"It's got spectacular history, spectacular architecture, incredible location," Skaarup said.
Renovations would run between $4 million and
$5 million and respect the building's heritage, he said. The Moxie's restaurant chain is owned by B.C.'s Gaglardi family.
Victoria "does not have a lot of restaurants right by the water," Skaarup said.
The restaurant would open next year and be run by Frank Naccarato, who already has the franchised Moxie's on Yates Street, which would remain, Skaarup said.
"We expect to bring 1,000 guests a day in the summer to that side of the Inner Harbour."
As the countdown looms for the CPR lease, community voices have been raised in favour of a comprehensive development plan for the harbour.
Ida Chong, who as B.C. minister of community, sport and cultural development has responsibility for the Provincial Capital Commission, said no committee has been struck on harbour planning, "but it's certainly something that I'm keen to see that we have a discussion on."
Farmer is calling for a master plan for the harbour.
"It is such a little jewel right in our midst that we are ignoring," he said.
Development could take place in small sections, said Farmer, founder of the Accent Inns hotel group.
Parts of the harbour are decaying and there is a "sea" of parking lots next to the water, he said.
Farmer favours people-oriented activities — such as commercial buildings, restaurants, possibly an aboriginal gathering place, and artisans — residential use and a boutique hotel.
The provincial government should step in to revive plans to draw up an overall plan to revitalize Victoria's harbour, he said.
"The [provincial] government has to be the initiator," said Farmer, noting that the province is a major landowner around the harbour.
Farmer said that Wright's plan "could be his legacy to Victoria."
"We need more attractions," he said. "We need something worthwhile to encourage them [tourists] to come here."
Farmer is also intrigued by the Maritime Museum's bid and also liked the harbour authority's plan to eventually link the building with a new ferry terminal, restoring its original use.
cjwilson@timescolonist.com
We thought you might also be interested in..