Cyclists demand more protection after man killed in collision with semi-trailer
Nov 30 2011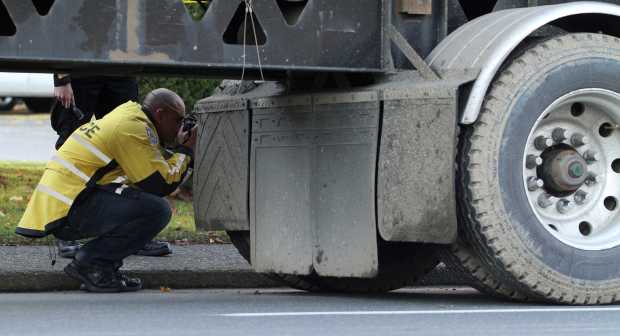 Victoria police investigate the scene of a fatal collision between a cyclist and a semi-trialer on Burnside Road, just past the Harriet Road intersection on Monday Nov. 28, 2011.
Photograph by:
Adrian Lam, timescolonist.com
Cyclists called Tuesday for more bike lanes and improved laws to protect them following an accident in which a man died.
Mark Philip Metcalfe, 50, was cycling southeast on Burnside Road Monday when he was hit and run over by a dump truck going the same direction, just past Harriet Road. Metcalfe died on his way to hospital.
Victoria police said Tuesday they are still investigating to determine what happened and who was at fault.
The intersection was closed for hours as the Victoria police crash team investigated. They continued to examine physical evidence and review the statements of several witnesses, including some who were at a nearby bus stop.
Darren Marr, president of the Greater Victoria Cycling Coalition, said the city should consider bike lanes on Burnside Road, which can be a dangerous for cyclists because it is narrow and often choked by cars parked in the right-hand lane. "Burnside does have its hazards," Marr said, adding that it is a major corridor for cyclists travelling between downtown and Camosun College or Tillicum Mall.
Former Victoria councillor John Luton, an executive director of Capital Bike and Walk, said the Capital Regional District's pedestrian and cycling master plan identified Burnside Road as a major artery that could be improved for both cyclists and drivers.
Acting Sgt. Kristi Ross said Monday the cyclist might have clipped the second trailer, causing him to fall under the large wheels.
This month, Toronto MP and opposition transport critic Olivia Chow introduced a private member's bill calling for mandatory side guards on semi-trucks that would prevent cyclists from being trapped under the wheels. It followed the death of a 38-year-old pregnant mother, who was clipped by a truck and fell under its wheels in Toronto.
Trucks in Britain and Europe have been required to have side guards for more than 20 years.
Marr said while the issue of guards is worth looking at, he favours a law adopted in parts of the U.S. that requires drivers to allow a berth of at least one metre when passing cyclists.
"It's a useful psychological tool to give drivers into just how much space they can give a cyclist," Luton said. "If a lane is too narrow they can say. 'I don't have enough space, I need to move to the other lane.' "
The driver of the truck, which was from Cobble Hill-based South Island Aggregates, was left shaken by the incident, Ross said.
kderosa@timescolonist.com
We thought you might also be interested in..