Woman charged in fatal crash is loving mother, court told
Nov 30 2011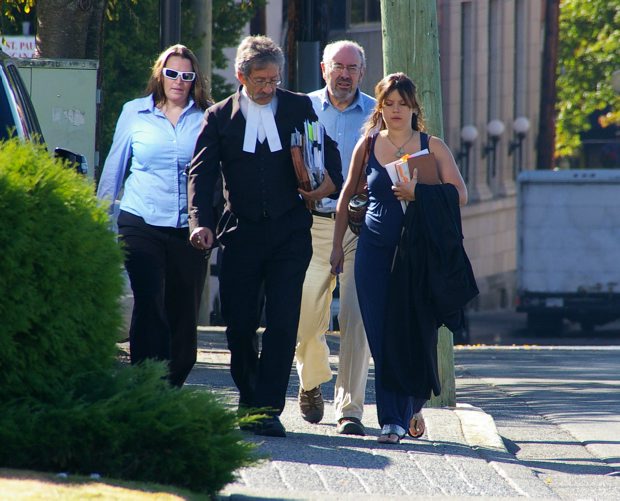 Clare Bekkers, left, flanked by her lawyer Bert King (and his assistant, far right) and her father, John Harrison, walk to the Nanaimo courthouse in a file photo from September.
Photograph by:
Danielle Bell, Daily News
NANAIMO — Relatives of a woman charged in connection with a road crash in which her two sons died painted a picture of a devoted, loving mother during her trial in B.C. Supreme Court in Nanaimo on Tuesday.
Clare Suzanne Bekkers, 39, is charged with impaired driving causing death, impaired driving causing bodily harm, dangerous driving causing death and dangerous driving causing bodily harm in relation to the accident in December 2008 near the Cassidy Inn, south of Nanaimo.
Bekkers's sons, Lukas, nine, and Cooper, two, died, and her daughters, Lunden, seven, and Pyper, four, were injured.
Bekkers's father, mother-in-law and father-in-law testified in her defence, saying they had no reason to expect she was impaired on the day of the crash.
The three said they had no idea about her cocaine use, which was described in court the day before as "recreational."
Bekkers's boss, Bob Leyland, testified that she was a model employee who was always on time, and that he never had cause to suspect she had drinking or drug problem. Bekkers drives a delivery van for a living.
John Harrison, her father, described Bekkers as a fair student and a great athlete growing up. He said he has a very close relationship with his daughter and her children, and that, in his opinion, she had always shown herself to be a good mother.
Despite living in Victoria while his grandchildren were in Nanaimo, he said he still sees them a few times a month and takes them to his cabin at Horne Lake with his wife.
Asked by defence lawyer Bert King if he loved the children, Harrison wept and replied: "Yes." Asked if he would ever let them into a car in which the driver had been drinking heavily, he said: "No."
He said that Bekkers seemed fine on the day of the crash, when she arrived at his house to pick up Lunden, Pyper, and a friend, Chloe.
He said he had no reason to be concerned about her ability to drive safely due to sobriety, or that the snowfall the night before made him nervous about road conditions.
Harrison said he had no idea his daughter ever used cocaine until events following the crash revealed that was the case.
Joe and Judy Bekkers, Clare's in-laws, provided similar testimony. The two spent the weekend leading up to the crash looking after the boys.
Joe Bekkers said that being a good mother was Clare's "strongest characteristic."
He said he had no reason to doubt Clare's sobriety and would not have let her leave with the children if he did.
Judy Bekkers also said Clare is a devoted mother.
The trial continues.
We thought you might also be interested in..