Mayor-elect plans budget cuts to head off tax rise
Nov 30 2011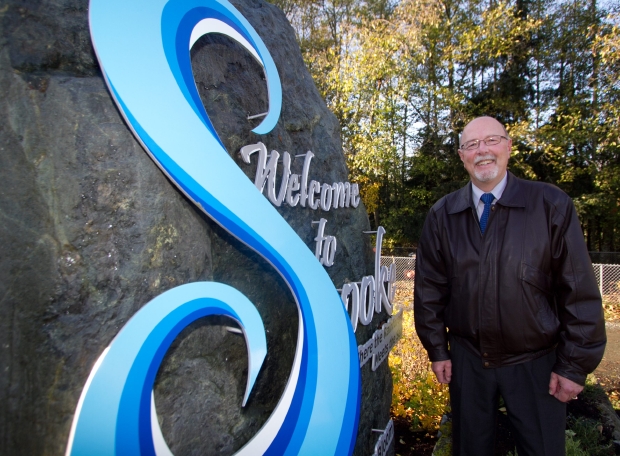 Sooke's mayor-elect Wendal Milne wants dramatic changes to municipal spending
Photograph by:
Darren Stone, timescolonist.com
Sooke's municipal hall could see significant budget cuts next year, with mayor-elect Wendal Milne calling to eliminate a projected 6.1 per cent property-tax increase.
The former police officer campaigned on a promise to reduce public spending and is confident he can go ahead with his plan after receiving a clear mandate from his community with 2,571 votes in the Nov. 19 election. His opponent, former councillor Dave Bennett, had 931 votes.
Milne promises there will be dramatic changes to municipal spending. He wants to hold off on "unnecessary" capital investments, he wants the council to oversee more contracts and he wants to freeze council pay.
The majority of his fellow councillors say they support his agenda and will do what they can to eliminate property tax increases.
"We have to find a way to do that, so we're going to look at our contracts and some of our capital investments," Milne said.
Sooke's tax increases have declined since 2008. That year the tax increase was 10 per cent, compared with the 2.91 per cent increase in 2011. But even that is too high for Milne, who wants no increase for 2012.
He aims to shave about $420,000 off this year's $6.12million budget, which he figures will eliminate the projected 6.1 per cent increase for property owners.
To achieve his goals, Milne will look at cutting costs without harming services. He wants to review the contracting process. District staff do not have to consult the council over contracts worth less than $75,000, a policy he would like to change. "I want to look at staff's authority to sign contracts to see if it's appropriate," he said. "We could potentially have council looking at more of the contracts being handed out."
Coun. Herb Haldane, who won a second term on Nov. 19, supports Milne's plan and thinks others will get behind it, too. "As far as I can tell, it will be unanimous, but I'm only guessing at that," he said. "It looks like we're going to bring some responsibility back to council."
Haldane said the previous council overspent taxpayers' money and signed unnecessary long-term contracts. "I think we can cut a fair amount of fat if we just tighten up the belt a little bit," he said.
Coun. Maya Tait, another incumbent, said she would like to review more contracts. She also supports taking another look at the budget to find further reductions, but does not want to reduce services that support community organizations.
"I would not support that sort of elimination, but there are ways to get creative," Tait said.
Milne said the council and staff will have to come up with strategic ways to maintain day-to-day services without spending more money. "We have good staff here and we need to support them. We have to make sure they can still do their job," said Milne. "They're integral to making this successful."
He said he will stop any plans to hire new staff. Two months ago, the district management decided not to fill a one-year maternity vacancy for a support clerk position. It also has delayed filling a vacant engineering technologist position by four months, finance director Sue-Lin Tarnowski said. There are no plans to hire any new staff in 2012, she said. Returning Coun. Bev Berger said she agrees with Milne that reviewing the budget is a "great idea" because there's "definitely room" to cut.
Newly elected Rick Kasper said he can't discuss details of cuts because he doesn't know the details of the budget. "I'm going to wait to hear from the mayor and his inaugural speech and get a better sense of direction he would like to see us go," he said. "My goal is to work with him."
Milne plans to outline his intentions during his inaugural speech on Dec. 5. He wants the council to meet within the following weeks.
dspalding@timescolonist.com
We thought you might also be interested in..