Lawyers protest for increase in provincial legal-aid funding
Dec 01 2011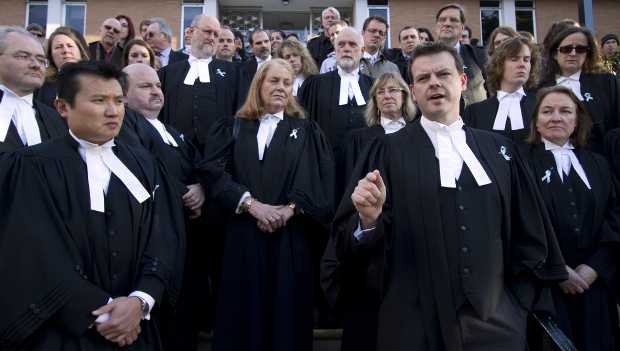 Paul Pearson, second from right at the front, speaks during the lawyers' rally in Victoria Wednesday.
Photograph by:
Adrian Lam, timescolonist.com
Lawyer Paul Pearson had fighting words Wednesday as he stood with nearly 80 colleagues expressing displeasure with the level of legal-aid funding in B.C.
Provincial legal aid is in trouble, people are suffering and action has to be taken, Pearson said.
"Now, the time has come where we must fight. We must fight for the rights of British Columbians to have access to justice," Pearson said, with fellow lawyers and University of Victoria law students behind him on the outdoor stairway of Victoria Law Courts. Many in the group wore blue ribbons to show their support.
"We must fight for fairness and we must fight for a system of law that we can be proud of," Pearson continued. "We want to draw attention to the severe shortage of funding that exists for legal aid in this province. We, as lawyers, have had enough."
Pearson said the Liberal government chopped close to 40 per cent from the legal-aid budget of about $100 million in 2002, and the system is faltering because of it.
"We stand here as lawyers, in our robes, with our ribbons, because we care about the crisis that's currently going on in our courts in this province. Far too many people are having to attend court representing themselves and failing to achieve proper access to justice."
Lawyers are committed to taking stronger action if more funding does not come, Pearson said.
"There is going to be a withdrawal of services in January if the government doesn't do anything, a graduated withdrawal."
Such a step would involve only duty counsel — lawyers who help people showing up at court without legal representation. The plan calls for duty counsel to withdraw services for the first week of January, then for two weeks in February, three weeks in March and all of April.
Similar rallies took place in Nanaimo, Vancouver, Kamloops and Penticton. NDP justice critic Leonard Krog, who attended the Nanaimo event, said the problem has been 10 years in the making. Sheriffs, a number of provincial court judges and others in the system have also expressed their concerns, he said.
"We see a growing crisis on the family side, as well," Krog said. "This is not just about legal aid for people who are charged with criminal offences, this is about legal aid for people who need help getting through family court or Supreme Court."
Attorney General Shirley Bond issued a statement saying the government realizes the importance of funding legal aid.
"In fact, despite the continued global economic uncertainty, we have maintained basic legal-aid funding at $66.5 million this year," she said.
"Legal aid is provided by the Legal Services Society, a publicly funded, independent organization that makes its own day-to-day operating decisions on how to deliver legal aid.
"In 2010, legal aid provided legal representation to nearly 28,000 low-income individuals to assist them with legal matters."
jwbell@timescolonist.com
We thought you might also be interested in..