Steamship decision excites Mayor, councillor
Dec 01 2011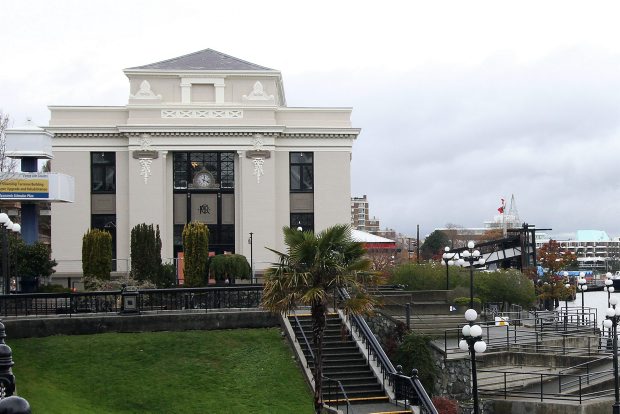 CPR Steamship Terminal
Photograph by:
Adrian Lam, timescolonist.com
The Greater Victoria Harbour Authority is an exciting choice for a renewed CPR Steamship building, say Mayor Dean Fortin and veteran councillor Pam Madoff.
"It is fantastic news. I am so pleased," Madoff said. "I just think it makes so much sense to have that function as part of the gateway experience for Victoria. I truly believe it's going to be the first building block in the incremental redevelopment of the harbour."
Fortin said: "It originally was the steamship terminal. It was an entrance gateway to the city and it's exciting it can serve that same purpose again."
The Provincial Capital Commission announced Wednesday that the GVHA had been selected as the anchor tenant of the landmark 1924 building, which was formerly home to the Royal London Wax Museum.
Four bidders had been seeking to lease the building from the publicly run PCC. The GVHA proposes initially to sublet the building to tenants, but has a long-term plan to use the building as an entrance to a new ferry terminal as part of a revitalization of the Belleville Street waterfront.
Other bidders were the Maritime Museum of B.C. and businessman Bob Wright, who proposed an attraction focusing on B.C., and Moxie's Restaurants.
Matt MacNeill, who had a proposal for a market similar to Seattle's Pike Place for the building but withdrew it before the final selection, said last week public agencies owning harbour front land should work together to include improved docks at Belleville Street, a walking path and an end to waterfront parking lots.
Both Madoff and Fortin agree. "We need to recognize that the Inner Harbour is an important gateway to the Coho, to the Clipper, to so many people coming in. The opportunity to enhance the Belleville terminal coming in is exciting," Fortin said. "As we look to redevelop the legislative district . . . it's an important piec e and can lead the way."
The PCC, the harbour authority, the province and the city all own land along the upper and lower harbours.
Madoff hopes the CPR building can be used as a terminal for the Coho and Clipper ferries. "I can certainly see a combined terminal opportunity and, at the same time, that helps to enhance the waterfront walkway we're hoping to achieve, recognizing the challenges around homeland security," she said.
bcleverley@timescolonist.com
We thought you might also be interested in..