Major ammonia leak in Langford caused by faulty valve
Dec 01 2011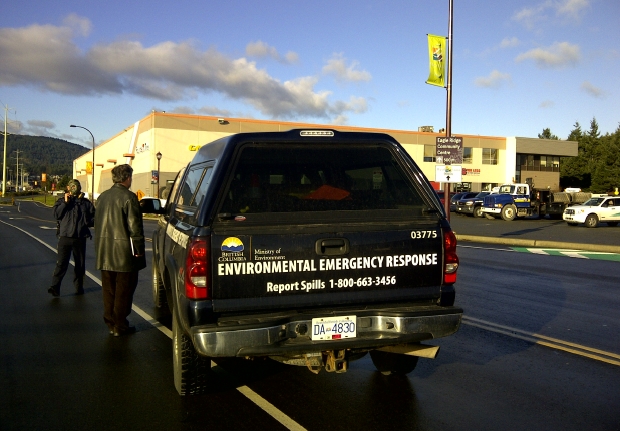 An Environmental Emergency Response vehicle attending an ammonia leak in the Westhills area on Nov. 30, 2011
Photograph by:
Darren Stone, timescolonist.com
An ammonia leak at the Westhills arena on Langford Parkway that forced the evacuation of homes and businesses Wednesday was caused by a faulty valve.
The leak, from a 1,500-pound ammonia tank around 7:52 a.m., sparked a major evacuation of the arena, and homes and businesses within a 900-metre radius.
A maintenance worker was trying to release excess ammonia in the system when the valve opened too far and ammonia began to leak out rapidly, Langford administrator Jim Bowden said.
"Because the ammonia was coming out he was unable to get back to the valve to close it off," Bowden said.
The employee followed proper protocols to alert his boss and work to get the arena evacuated as quickly as possible, while calling emergency responders.
The leak was contained by 10:30 a.m. by the Greater Victoria Hazmat team, dressed in full protective suits. At 11:30 a.m., it was declared safe for people to return to the area.
Dozens of firefighters, from Langford, Colwood and View Royal fire departments, were involved in managing the evacuation. West Shore RCMP diverted traffic. An evacuation centre was set up at the Langford Legion on Station Road for those who had to move.
Ammonia is a commonly used refrigerant in ice rinks. Exposure to high concentrations of it can cause burning of the nose, throat and respiratory tract and can be lethal.
Westhills is home to the new City Centre Park complex, which includes a children's Play Zone, two all-weather sports fields , a dry-floor arena, bowling lanes and an ice rink.
Bowden said he could not recall a similar ammonia leak at any of the city's facilities. The City of Langford will investigate the incident.
We thought you might also be interested in..
Notice
: Undefined index: event in
/home/viccity/public_html/v2/content.php
on line
67