Court ruling halts police-issued driving bans
Dec 01 2011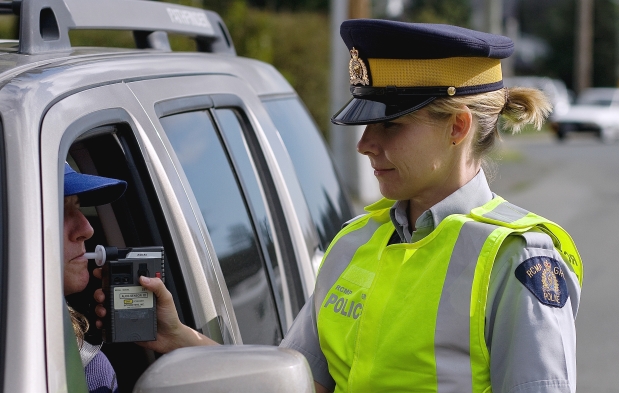 B.C. Supreme Court Justice Jon Sigurdson has declared part of the province's tough new impaired driving law as unconstitutional for turning police into a roadside judge, jury and executioner.
Photograph by:
ADRIAN LAM, TIMES COLONIST
Police departments across B.C. will stop issuing immediate administrative driving bans to drivers who fail a sobriety test following Wednesday's B.C. Supreme Court ruling that part of the province's tough new impaired driving law are unconstitutional.
B.C. Supreme Court Justice Jon Sigurdson said in a lengthy decision the provincial Liberal government trampled on individual rights with part of its year-old, anti-drunk-driving law.
"The legislation infringes Section 8 of the Charter insofar as it concerns the prohibition, penalty and costs arising from the screening device registering a 'fail' reading over .08," he said. "Although I am fully satisfied of the importance of the objective of reducing the harms caused by impaired driving, I have found that the challenge succeeds in part, because in one respect the impugned legislation infringes the rights of individuals to be free from unreasonable search and seizure."
Police officers who stop drivers with a blood-alcohol level of over 0.08 will now proceed with criminal charges instead of the immediate roadside prohibition, said Victoria police Chief Jamie Graham, head of the B.C. Association of Chiefs of Police traffic committee. "The fail provisions will be off the table," he said. "They won't be enforced until we get clarity from the government."
Graham said it will not affect traffic officers' CounterAttack campaign, which tries to catch drunk drivers during the busy holiday season. "There will be no let up for impaired drivers," he said.
B.C.'s drunk-driving law, the toughest in the country, allowed police to issue immediate roadside suspensions, impound cars and levy fines on drivers who refuse a breath test or blow a blood-alcohol level of .05 or higher. Drivers who blew a .08 or higher faced a three-month driving ban, roughly $5,000 in penalties, towing and stowage fees and other costs. They must also take a pricey safe-driving program and install a breathalyzer device on any motorized vehicle they operate.
The administrative penalties for those who blow a "warn", with a blood alcohol level of .05 to .08, will not change.
Defence lawyers and the B.C. Civil Liberties Association have denounced the laws, saying they eliminate a person's right to a fair trail and allow police to acts and judge, jury and executioner.
Victoria defence lawyer Mike Mulligan said the government's attempt to "decriminalize" drunk driving has stripped people of their right to appeal.
The criminal process requires an individual to blow into a Datamaster breathalyzer at the police station which gives a more accurate blood-alcohol level than the hand-held roadside screening device, Mulligan said.
"They created a system designed to be quick and cheap, but, in doing so, they created a system which was quick, cheap and unfair," Mulligan said.
Solicitor General Shirley Bond said regardless of the decision police will be out in force enforcing impaired driving laws. The government will introduce legislation, likely this spring, that will add criteria allowing drivers who blow over .08 to specifically challenge the results of the roadside screening device, Bond said.
But they will not get off scot-free in the meantime, Bond added. Those who fail the test will face the old regime, which includes a 90-day driving prohibition, have their vehicles impounded for three days and possibly criminal charges, she said. The decision does not affect federal criminal code prohibitions.
The government claims its program was a huge success reducing alcohol-related fatalities in the past year to 68 — a 40 per cent decline from five-year annual average of 113 deaths. Police issued 23,366 suspensions. Of those, 15,401 were drivers who blew a "fail" (which indicates they were over .08) or refused to provide a breath sample; and 7,965 blew a "warn," which indicates a blood alcohol level of between .05 and .08. Police also impounded 20,020 cars.
The constitutional challenge grew out of a petition filed by Aman Preet Sivia, who was stopped about 10 days after the new law came into effect in Sept. 2010. Sivia was found to be in excess of the .05 blood alcohol restriction and was issued a driving prohibition. She applied to the Superintendent of Motor Vehicles for a review of the officer's decision, but was denied.
kderosa@timescolonist.com
[The decision is available on the court website http://www.courts.gov.bc.ca/jdb-txt/SC/11/16/2011BCSC1639.htm#_Toc310333396]
We thought you might also be interested in..