Greater Victoria Harbour Authority is the winning bid for CPR Steamship Terminal
Dec 01 2011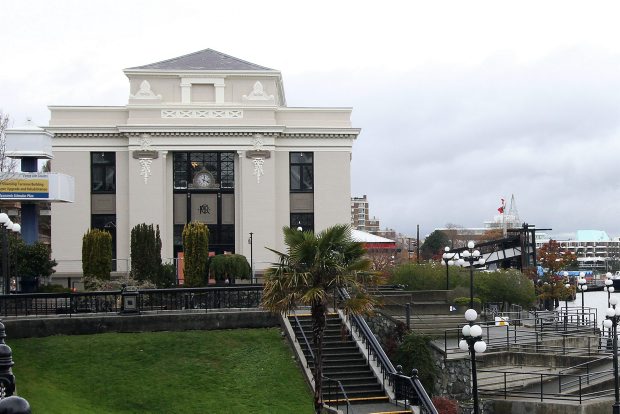 CPR Steamship Terminal
Photograph by:
Adrian Lam, timescolonist.com
Shopping, eating and drinking should be in place by late summer at a renovated CPR Steamship Terminal building, the Greater Victoria Harbour Authority said Wednesday, after its proposal for the harbourfront landmark won out over three other projects.
The Provincial Capital Commission, landlord of the historic building at 470 Belleville St., said its board unanimously chose the harbour authority during a teleconference on Wednesday morning.
In a second stage, the harbour authority's goal is to return the building to its original use as a ferry terminal as part of a redevelopment of the adjacent Belleville Street terminal lands where the Coho and Clipper ferries dock.
"We are eager to roll up our sleeves and get down to business," Curtis Grad, harbour authority CEO, said from Fort Lauderdale, Florida, where he is attending a cruise industry conference. "We want to bring high-quality food and beverage, and retail."
The harbour authority beat out another non-profit group, the Maritime Museum of B.C., which is keen to move out of its crowded base in Bastion Square, as well as Bob Wright's Oak Bay Marine Group, with a plan for a high-tech B.C.-themed attraction, and Moxie's Classic Grill restaurant.
The Provincial Capital Commission board agreed with its advisory panel's recommendation supporting the harbour authority. Two commission board members excused themselves from the vote — Bill Wellburn, treasurer on the harbour authority board, and Victoria Coun. Chris Coleman, who was the Maritime Museum's executive director a decade ago.
Grad said in the proposed new terminal there may be an opportunity for a new purpose-built home for the Maritime Museum. Next on the agenda would be creation of a civic building next door for uses such as arts or entertainment, he said.
Grad said he is "absolutely confident" appropriate tenants will be found for the lower and ground floor levels of the four-storey building. The goal is to open in the third quarter of 2012 to reap the benefits of the second half of the tourist season. A pub-style restaurant is intended on the lower level, with the ground floor rented by several tenants, including a wine store, a wine bar, retail outlets and exhibits. He hopes a single tenant will be found for the third and fourth level for offices that will bring year-round life to the site.
The harbour authority will negotiate a lease, likely in 10-year increments, for 1,951 square metres in the heritage building, which was designed by architects P.L. James and Francis Rattenbury. Grad expects the lease to provide a guaranteed minimum rent or a percentage of revenues, whichever is larger.
A $5-million renovation and seismic refit has been completed on the now-vacant building, home to the Royal London Wax Museum for 40 years until fall 2010.
The harbour authority will invest up to $1 million on the building and tenants will also make improvements, Grad said.
Moxie's is interested in being a tenant, company president Laurids Skarrup said from Calgary. "We are ready to go. . . . Hopefully, they will consider us."
Jamie Webb, president of the Maritime Museum's foundation, said, "We are a little disappointed that Victoria is not getting any new attractions or energies in the harbour."
The museum, however, is planning to unveil another renewal plan with a couple of other options, likely this week, Webb said.
cjwilson@timescolonist.com
We thought you might also be interested in..