Artwork a monument to HIV survival
Dec 01 2011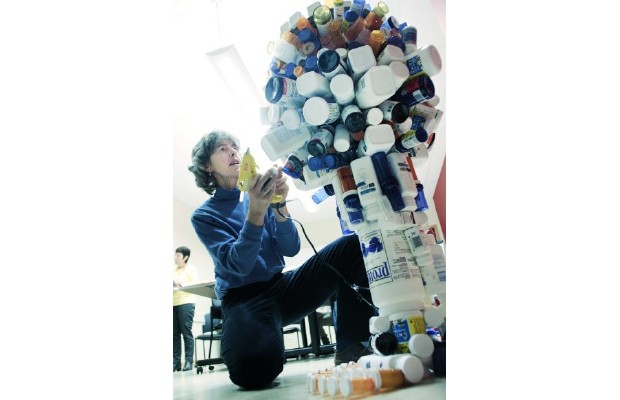 Peggy Frank with the tower of pill bottles that she used during her treatment for HIV.
Photograph by:
Lyle Stafford, timescolonist.com
Piles of empty pill bottles, glued into a crazy pattern, remind Peggy Frank of the time she was supposed to die.
"I was on palliative care. I had been given up for dead by the medical community, but I am not a very good listener and I didn't do what they told me to do," she said.
Frank, 57, an artist, is concentrating intently on creating a unique time capsule for World AIDS Day today as a symbol of the 30 years that have passed since the discovery of the AIDS virus.
"I know these are the pills that kept me alive, so this is a tribute," Frank said, adding another bottle to the tower.
Frank had HIV diagnosed in 1988, when there was no known treatment and patients were isolated by stigma, fear and blame.
A breakthrough came in 1996 when AIDS patients were told that a drug cocktail had been developed.
"People started talking about it being a manageable disease. I had to take 49 pills a day. It wasn't manageable for me. My life became just a matter of taking pills," Frank said.
Frank still wonders about the word "cocktail."
"I don't know if we were supposed to wear pretty skirts when we took them," she said, recalling how she tried to drink one particularly evil-tasting drug in a shot glass. "It tasted like battery acid," she said.
Today, Frank takes only a few pills a day, which makes it easier for her to regularly travel to Africa to work with AIDS orphans and families through the organization Positively Africa, which she formed after her diagnosis.
"I took my disease and went to a place where it was totally acceptable to be HIV-positive," she said.
For most affected by the disease, the dream is a world without AIDS and that hope will be at the heart of the time capsule.
Letters, to be written at a special 30-year retrospective event at the Metro Theatre today, will be sealed in the hollow middle of the capsule, to be opened only when a cure is found.
In the meantime, the sealed capsule will be taken to schools and other community groups as an educational tool. Education must remain a priority as young people, with no memory of the discovery of AIDS, think there's a cure, said Karen Dennis, Victoria AIDS Resource and Community Service executive director.
"Half of all new infections are people 25 years old and under," she said.
Education is neglected because HIV remains taboo, said Craig Dales, Vancouver Island Persons With AIDS Society chairman. "Sometimes I don't think attitudes have changed. There's still a lot of stigma," he said.
But information is more available than it was 30 years ago, Dales conceded.
"When I was a teenager, the only information you could get was from gay porn magazines from the U.S. and they would arrive all blacked-out [by Canada Customs]," he said. "I guess we have come a long way."
In other World AIDS Day events in Victoria, candles will be lit on the steps of the legislature from 7 p.m. to 9 p.m. and AIDS Vancouver Island will host a "Rock Your Awareness" show and fundraiser at Logan's Pub, 1821 Cook Street, 9 p.m. Friday.
jlavoie@timescolonist.com
We thought you might also be interested in..