Maritime Museum to unveil 'Plan C' after failing to dock at CPR building
Dec 02 2011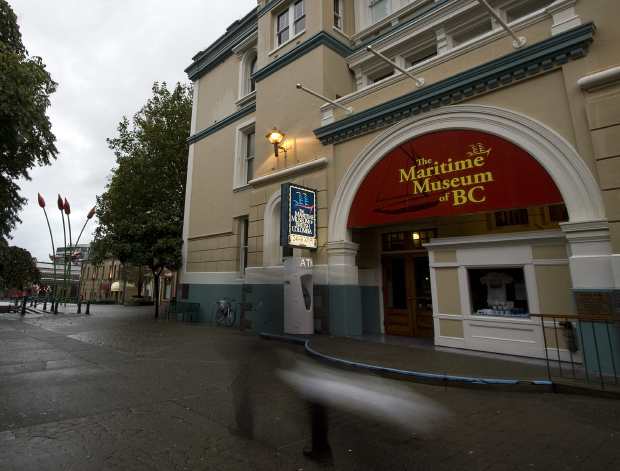 The Maritime Museum in Bastion Square occupies the old courthouse.
Photograph by:
Adrian Lam, Timescolonist.com
A new course has been set for the Maritime Museum, details of which will be revealed in an announcement today.
The museum board was disappointed in its failure to lease the historic CPR Steamship Terminal building, at 470 Belleville St. on Victoria's Inner Harbour, said Barry Rolston, president of the board of the Maritime Museum of B.C. The Provincial Capital Commission went with the Greater Victoria Harbour Authority, which plans to return the building to its original use as a ferry terminal.
Down but far from out, the board of the non-profit maritime museum has another plan under wraps.
"We are in the process of identifying a new location, but we have not done that yet," Rolston said Thursday, declining to give specifics.
"We want to tell the public where we're going from here — our plan A was the CPR building, our plan B was reviewing where we are right now and just
what can we do to the current structure," Rolston said of the museum's landlocked base in Bastion Square.
"We're looking at plan C, and that's what we want to talk about with the public [today]," Rolston said.
The building where the museum is currently located would require "an awful lot of work" to bring it up to acceptable standards. There are structural and electrical concerns which are priorities, Rolston said.
The collections area was shut down for three months this year because a roof was about to give way.
Rolston acknowledged that many people are keen on the museum relocating to a more suitable location.
A new location would allow for improved display areas with better lighting. "I get embarrassed about our lighting, but we can't get any more power," said Rolston.
It's hard to draw tourists off Government Street into Bastion Square where the museum is tucked away, he said.
It would be better for a museum detailing the area's maritime history to be closer to the sea, he added.
However, Rolston said it is difficult for a non-profit organization to obtain loans when it hasn't got a specific property identified.
"If you don't have a lease, you don't get any money. It's a Catch-22 and it's haunted us for a long time," he said.
The museum has "absolutely no debt," he said.
Its current location has a good amount of space at 20,000 square feet but it's chopped up and walls can't be removed, said Rolston.
smcculloch@timescolonist.com
We thought you might also be interested in..