Maritime Museum looks out to sea for new location
Dec 03 2011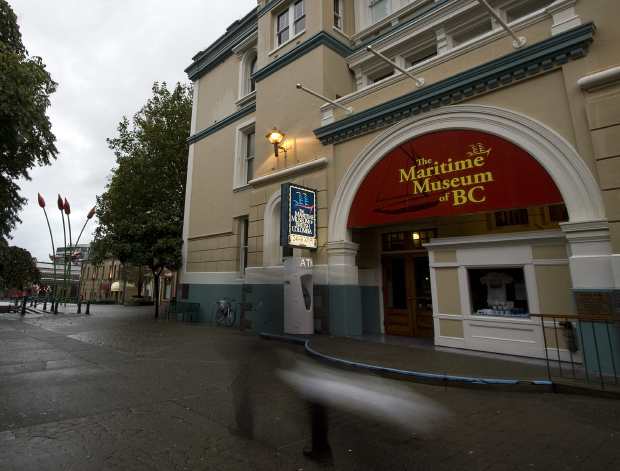 The Maritime Museum in Bastion Square occupies the old courthouse under which unclaimed hanging victims are still buried.
Photograph by:
Adrian Lam, Timescolonist.com
The Maritime Museum of B.C. hopes to cast off from its current landlocked location in Bastion Square and take its marine displays to sea.
It plans to seek help from the Greater Victoria Harbour Authority and the City of Victoria to float a two- to three-storey building on a leased water lot.
"We envision working with the city and the harbour authority to realize an iconic building," said Roger Wheelock, a member of the Maritime Museum's planning committee, during a Friday press conference at the museum.
"We need to be around the harbour, we need to interpret the maritime history from a coastal base and not from a landlocked position such as this is. Victoria critically needs a destination tourism location in the centre of the city . . . so we are going to propose a floating maritime museum on ecologically respectful concrete floats."
The museum society is buoyed by support it attracted during a quest to lease the historic CPR terminal building, where more than 600 people attended a museum open house. But the Provincial Capital Commission awarded the lease this week to the Greater Victoria Harbour Authority.
The option of moving offshore is worth a look since property in the core of Victoria and around the Inner Harbour is extraordinarily expensive, Wheelock said.
Similar sea-based structures are found in Vancouver and other locations, he said.
A floating museum would be "absolutely affordable and our fundraising committee has backed us up on that," Wheelock said.
The plan is to have the multi-storey museum in place in Victoria harbour within two years.
"We envision a Maritime Museum on the sea — state-of-the-art galleries, visitor amenities and public meeting spaces — with a new emphasis," said Barry Rolston, president of the Maritime Museum of B.C. Society.
The museum hopes to have initial concepts ready for approval in the spring.
Curtis Grad, CEO of the Greater Victoria Harbour Authority, is in Florida and was unavailable to comment Friday.
Representatives from the museum have requested a meeting with city administrators to discuss the plan.
smcculloch@timescolonist.com
We thought you might also be interested in..
Notice
: Undefined index: event in
/home/viccity/public_html/v2/content.php
on line
67