Smiley tattoos become tribute to Tyler Noble
Dec 03 2011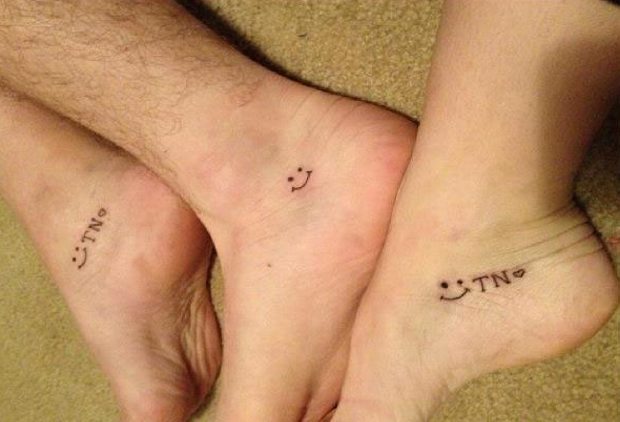 Friends and relatives of Tyler Noble, are remembering him with smiley tattoos on their feet, like the one Nobel had done during a trip to Thailand. (Dec. 2011)
Photograph by:
Submitted photo, timescolonist.com
As friends and family of Tyler Noble plan a memorial service in his honour Sunday, dozens of them have a permanent reminder of the gregarious 20yearold from Shawnigan Lake who died after a downtown altercation.
A simple, dime-size black tattoo of a smiley face inked onto the inner right ankle matches the one Noble got while travelling in Thailand last year. It's a fitting tribute to someone loved ones say was always smiling, laughing and joking.
"I've got one, too," said Noble's 71-year-old grandmother, Marie Miller. On Wednesday, Miller, Noble's parents, Ken and Laurie, and some cousins followed the lead of about six long-time friends who got the tattoo the day after Noble died.
"If I ever look down on my ankle and see it, it's sure going to remind me of him," Miller said, her voice cracking with emotion.
Noble died Nov. 26 after an early morning altercation with a stranger after a night out. Noble was punched in the face and hit his head on the pavement on Douglas Street. He died in hospital hours later. Brandon Huth, 24, is charged with manslaughter in connection with the death.
Jarred Meservia, 20, who was with Noble that night and was at his hospital bedside before he died, remembers ribbing his friend over the tattoo that was his big surprise upon returning from his two-month trip to southeast Asia in spring last year.
"When we looked at it, we said, 'Man, you'd never catch me dead with a smiley-face tattoo,' " said Meservia, admitting he was wrong as he proudly lifted his pant leg to show off the ink job.
Tyler's uncle, Ron Miller, estimates more than 100 people have the tattoo.
"He was very well-loved in the community up here," Ron said.
Noble worked three jobs to save up for the backpacking trip through Thailand and Vietnam. He'd keep in touch through Facebook with friends from the Island, who were not surprised to see Noble easily befriending people from all over the world, said close friend Devin McFarlane.
"You could meet him for a day or a week and he'd leave an impression on you," McFarlane said. "Seriously, I don't know one person who didn't like the kid," Meservia added.
McFarlane and Meservia said some of their best times with Noble was during the year they all lived together in an ocean-view house on Bidston Road. During the week, they'd stay up late playing video games. During the weekends, they were known for their parties.
The family's Mill Bay cabin has seen a constant stream of family and friends visiting to comfort Noble's parents and his younger sister, Samantha.
Angie Tytula, a family friend, said Ken and Laurie are "overwhelmed" by the support they've received.
Tytula said Noble planned to go back to college. He also wanted to do more travelling.
The family has planned a memorial service Sunday at from 1 to 4 p.m. at the Shawnigan Lake Community Centre.
The family has set up a trust fund, the Noble family trust, at any Island Savings Credit Union, to help pay for Noble's funeral.
kderosa@timescolonist.com
We thought you might also be interested in..