Deal lays ground for First Nations economy
Dec 03 2011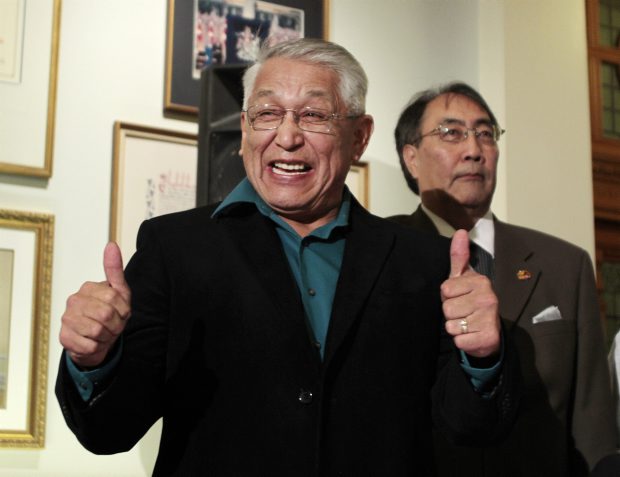 Huu-ay-aht former chief Robert Dennis celebrates the signing of the licence Firday as Chief Counillor Jeff Cook looks on. (Dec. 2011)
Photograph by:
Lyle Stafford, timescolonist.com
The building blocks of a burgeoning First Nations economy were laid Friday as the Huu-ay-aht First Nation signed a groundbreaking forestry agreement with the province.
The first aboriginal woodland licence will give Huu-ay-aht long-term tenure on 9,500 hectares of Crown land 10 kilometres northeast of Bamfield, next to the band's treaty settlement lands.
The agreement, which will allow Huu-ay-aht to harvest about 70,000 cubic metres of timber each year, will be good for the economy of Huu-ay-aht and surrounding communities such as Bamfield and Port Alberni, Chief Councillor Jeff Cook said.
"We have about 15 of our own people working in the industry and, because we don't have the capacity, we have contracted a lot of the work out," he said.
One advantage of the new arrangement, with tenure starting at 25 years, is that band members will be trained for jobs in the industry, Cook said.
"This is a win-win for everyone," he said
With harvesting plans already in place for some of the treaty settlement plans, there is potential to log about 150,000 cubic metres a year, Cook said.
"This will help us build a self-sustaining community."
Huu-ay-aht started self government April 1 as the band took steps to implement the Maa-Nulth treaty, one of only two treaties negotiated under the B.C Treaty Commission.
Forests Minister Steve Thomson said the woodland licence is unique because the tenure allows Huu-ay-aht to plan for the future.
Previously, most First Nations forestry agreements have been one-time, non-renewable contracts.
"This gives access to longer-term economic ability and jobs," said Thomson, who hopes other First Nations forestry agreements will follow shortly.
"We are in the process [of discussions] with a number of First Nations," he said.
Huu-ay-aht, which has about 700 members, is building a sewer line, which will allow more development, and is lobbying the provincial government to pave notoriously rough logging roads leading to the area.
"We are getting the road paved from Bamfield to our community in spring or early summer," Cook said.
"People are wanting to meet with us and start partnerships. We are very active in letting people know we are open for business," he said.
Huu-ay-aht members are also developing First Nations tourism, with the remains of the ancient village of Kiixin as one of the major attractions.
jlavoie@timescolonist.com
We thought you might also be interested in..