It's time to get your skates on
Dec 03 2011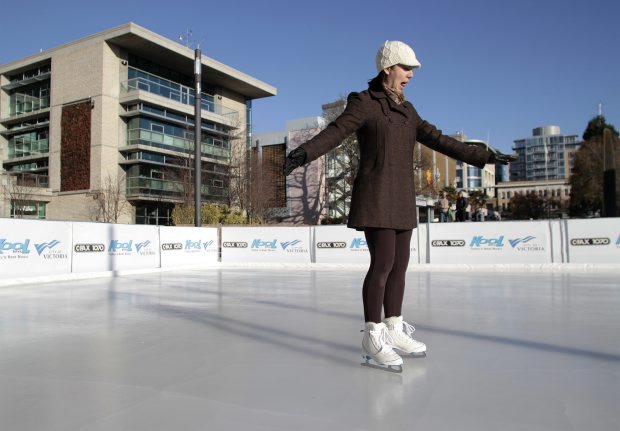 Lindsay Windecker, DVBA marketing coordinator tries out the rink at Centennial Square. (Dec. 2011)
Photograph by:
Lyle Stafford, timescolonist.com
You can go for a skate at Victoria's Centennial Square beginning today, but please leave the hockey gear at home.
The Downtown Victoria Business Association is officially opening its Centennial Square skating rink, an idea conceived six years ago. "The ice looks perfect and the weather couldn't be better," said Ken Kelly, DVBA executive director.
Local ice dancer Pilar Maekawa will make the inaugural outdoor official skate. Pilar, 17, started skating at the age of three, and she and her brother, Leonardo, are among Canada's top junior ice dancers.
After the opening performances, the 17 metres by 17 metres rink will open for free public skating until 8 p.m.
The rink might look small, but it should be big enough for about 60 skaters at a time, Kelly said.
The rink is being supplied by Center Ice Home Arenas of Mississauga, Ont.
The official opening comes a week later than planned as organizers had to wait while the city decamped Occupy protesters who moved in Oct. 15, turning the square into an unofficial tent city.
Public skating sessions are scheduled for Monday through Wednesday, noon to 5 p.m.; Thursday through Saturday, noon to 8 p.m.; and Sunday 11 a.m. to 5 p.m. The rink will be open Christmas Day, Boxing Day and New Year's Day 11 a.m. to 3 p.m. Cost of skating is $2 and limited skate rentals will be available at $5 a pair.
"We may find that we end up extending the hours. In the first couple of days we're going to assess where we are in terms of demand, whether we should extent the hours or make it available to some community groups," Kelly said.
The surface is real ice, not treated plastic. Because it is a relatively small surface, anyone who harbours dreams of driving a Zamboni may want to look elsewhere.
"It [the ice resurface machine] is a little hand-held unit that measures about a metre across that a hose fits into so there's a trickle feed of water. You drag it around behind you," Kelly said.
Kelly said the DVBA has had inquiries from groups wanting to book the ice for hockey games but, worried about wear and tear on the ice, has declined. Groups will be able to book the rink for private skating sessions outside of the public hours, he said.
The cost of the skating project will be about $60,000.
bcleverley@timescolonist.com
We thought you might also be interested in..