Shawnigan Lake remembers Tyler Noble with love and affection
Dec 05 2011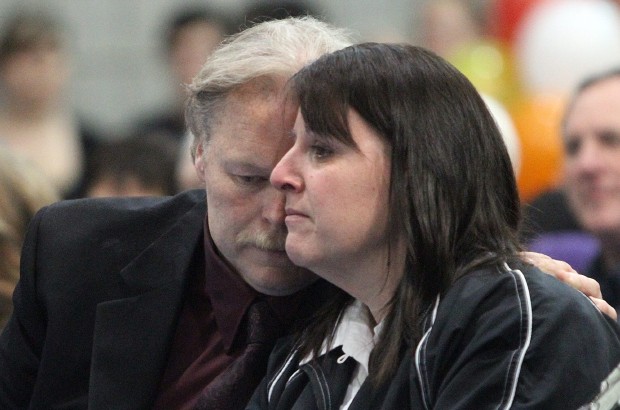 Ken and Laurie Noble sit and listen to family and friends during the memorial for their son, Tyler, at the Shawnigan Lake Community Centre on Sunday, Dec. 4, 2011.
Photograph by:
Adrian Lam, Times Colonist
SHAWNIGAN LAKE — Ken and Laurie Noble sat front and centre Sunday in a packed gymnasium, listening to friends and family tells stories about their gregarious son, who inspired so many people before he tragically died Nov. 26 in downtown Victoria.
Noble died after an early-morning altercation in downtown Victoria in which he was punched and hit his head on the pavement on Douglas Street. He died in hospital hours later.
On Sunday in the Vancouver Island community where he grew up, friends performed songs, quoted movies and recalled the times they shared with Tyler Noble, a young man whom they said was taken from them far too early. He was 20.
The entire room of about 500 people at the Shawnigan Lake Community Centre joined in a chant that Noble had used to pump up hockey teammates in the locker room. A slide show of photos illustrated Noble's childhood, his teen years and the brief span he had as an adult.
His mother swept a bunched-up tissue across her eye lids repeatedly as she bounced in her chair, sometimes crying, sometimes laughing at anecdotes. Her son was an animated young man who made people laugh and feel warm. The photos proved it.
Several people mentioned the tiny smiley-face tattoo that Noble got while visiting Thailand. His friends made fun of it, but now dozens of them sport their own.
Ken Noble has one on his ankle, too, and hopes the image will become a symbol that calls for an end to violence.
"Stop all the violence, " he said in an interview after the service. "Hopefully, the smiley-face tattoo will take off and we will do something about it."
Brandon Huth, 24, of Victoria, has been charged with manslaughter in connection with the death. He is to have a bail hearing on Monday.
We thought you might also be interested in..