Man charged in connection with Tyler Noble's death released on bail
Dec 06 2011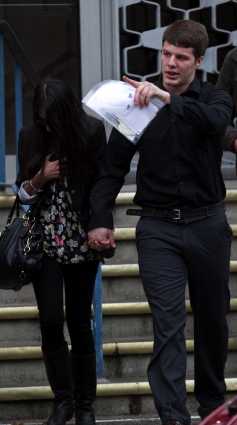 Brandon Huth, accused of killing Shawnigan Lake man Tyler Noble, leaves the Victoria courthouse after being released on bail on Monday Dec. 5, 2011.
Photograph by:
Darren Stone, timescolonist.com
A 24-year-old man charged with manslaughter in connection with the death of Tyler Noble has been released on $10,000 bail.
Brandon Huth faced a packed courtroom Monday, with about 40 of Noble's friends and family anxiously waiting to hear details about what happened to the 20-year-old Shawnigan Lake man.
Noble died Nov. 26 while in hospital after being punched in the head during an altercation at the corner of View and Douglas streets at 2:30 a.m. He fell and hit his head on the pavement after the punch, according to friends who were there.
The Crown agreed to Huth's release. Because of a court ban, details of prosecution evidence cannot be published.
Victoria provincial court Judge L. Wayne Smith ordered Huth to stay away from licensed liquor establishments. He ordered Huth to adhere to a curfew between 9 p.m. and 6 a.m.
He is also prohibited from possessing weapons and must not consume any alcohol or drugs.
Huth was originally charged with second-degree murder, but the charge was reduced to manslaughter last week.
Noble's father, Ken, said he would rather see Huth remain in custody.
"It's too bad ... but it's what I expected," he said outside the courtroom.
dspalding@timescolonist.com
We thought you might also be interested in..