Saanich response to oil spill questioned by area residents
Dec 06 2011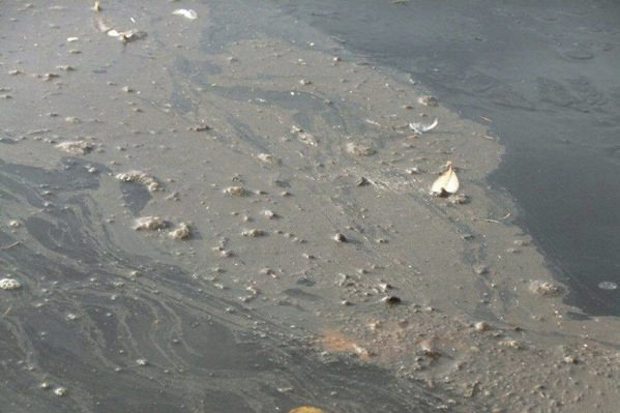 On Monday, oil could be seen in pockets from Swan Creek, down Colquitz Creek and into Portage Inlet.
Photograph by:
., Handout
Days before the discovery of an oil spill into Colquitz Creek, Saanich municipal employees searched unsuccessfully for the source of a fuel smell in the area. Now, some residents are questioning whether an earlier response could have avoided a disaster.
The spill of about 1,000 litres of home heating oil from a home on Kenneth Street was officially reported on Friday morning.
However, Saanich crews had been at the fish-counting fence the previous Tuesday because of an oil smell.
"By Wednesday our fish were dying," said Dorothy Chambers, a longtime volunteer at the fish enumeration fence.
"If they had responded Tuesday, it could have been stopped at the storm drain."
The concerns are echoed by Trevor Hancock, who said in an email to Saanich officials that the spill should have been taken much more seriously.
"Clearly it is too late to do much now to save the salmon and other wildlife affected by this spill," he said.
"But I ask you to take a good look at the response and, if indeed it is as inadequate as it appears to have been, that you take steps to ensure that this will not be the case in the future."
Despite clean-up efforts, booms and absorbent material in manholes, a sheen remained on the water Monday and oil could be seen in pockets from Swan Creek, down Colquitz Creek and into Portage Inlet.
Saanich engineering director Colin Doyle said crews responded within an hour of the official report.
"Within three-and-a-half hours, we had the house that was the source of the spill cut off," he said.
"It was a timely and rapid response."
Saanich staff responded to a complaint about the odour Tuesday and thoroughly searched for the source, but did not find anything, Doyle said.
Such complaints are not unusual as it is an urban waterway and it is not known whether that smell was related to the leak found Friday, he said.
Booms are being changed twice a day, together with absorbent pillows, and a professional biologist has been brought in to advise the municipality, Doyle said.
"We are doing virtually everything we can. Our guys are as disheartened as Ms. Chambers and we are always looking at how to improve our response," he said.
Chris Bos, who leads the coho-counting efforts, said the fish fence was removed Saturday to make it easier for the fish to swim past the polluted area.
Although many fish have died, some are continuing to spawn, despite the oil, he said.
"We don't know whether it will be successful. There is still a fair amount of oil," he said.
Once eggs hatch, coho spend a year in the stream before heading out to sea.
The saving grace may be that some are spawning further upstream where there is no oil, Bos said.
"In that respect we may have dodged the bullet, but, on the other side, a lot of critters depend on clean water. We don't know the lasting ramifications," he said.
Bos wants to avoid finger-pointing and said the focus must now be on cleaning up and monitoring to ensure there is no lasting damage.
It would be useful to use the eyes and ears of people living in the area to watch for spills and signs along the creek could give an emergency number, he suggested.
jlavoie@timescolonist.com
We thought you might also be interested in..