B.C. Ferries' new CEO heads for rough seas
Dec 07 2011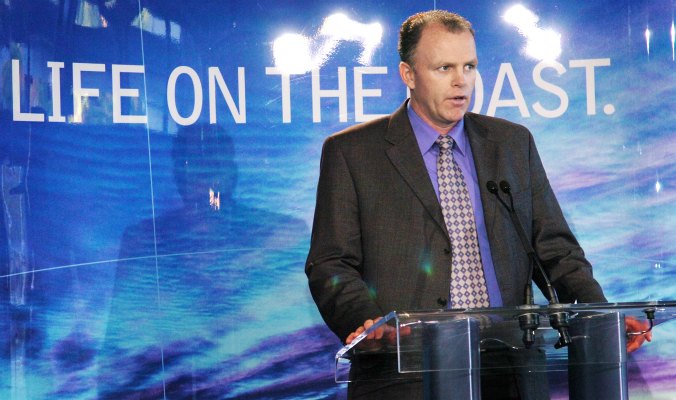 Michael Corrigan will succeed David Hahn as the corporation's new president and CEO,of the BC Ferries Corp. His compensation will be around $600,000 per year, some $400,000 less than that of Hahn.
Photograph by:
Wayne Leidenfrost, PNG File Photo
There's no easy fix for the troubles facing B.C. Ferries and it's likely nobody will be completely happy with the changes ahead to fares and service levels, says the corporation's new CEO.
Mike Corrigan, B.C. Ferries' second-in-command, was tapped by the board of directors Tuesday to replace CEO David Hahn, who is retiring at the end of the month.
Corrigan's five-year term is headed straight for choppy waters as the corporation seeks government approval to cut 400 sailings, while provincial politicians ratchet up pressure to cap ticket hikes and the independent ferry commissioner finishes a review of the entire system.
"There's no silver bullets," the incoming president and CEO said in an interview Tuesday. "If there were silver bullets, they would already have been put in the gun and shot."
Corrigan, 50, takes B.C. Ferries' top spot amid a grim financial outlook. Vehicle traffic is at its lowest level in 11 years and passenger traffic is even worse. Fuel costs are rising. Revenue growth is precarious. The quasi-private corporation (funded by more than $150 million in taxpayer dollars annually) might post a loss of more
$20 million this year.
Meanwhile, the Liberal government is demanding ticket prices be kept affordable. It currently costs a family of two adults and two young children more than $180 to take their car on a round-trip on the ferry between Swartz Bay and Tsawwassen.
Corrigan, a former minor league hockey player who worked his way up to B.C. Ferries' chief operating officer, said either government steps in with $25 million to $50 million in additional subsidies to stabilize ticket prices, or fares rise and service is reduced.
In particular, coastal communities need to consider whether their service levels are sustainable, said Corrigan. There are more crew than passengers on some runs, particularly on the Queen Charlotte Islands and Texada to Powell River routes, he said.
Corrigan replaces Hahn, who stepped down 15 months earlier than planned amid sustained controversy over his million-dollar annual compensation package.
The government capped compensation for any future CEO. Corrigan will earn about $563,000 a year — about $35,570 less than he did in 2010 as chief operating officer, during a year with full bonuses.
The salary and compensation is set by the B.C. Ferries board of directors. It's still a concerning amount, said Transportation Minister Blair Lekstrom.
"Many will be accepting of the new salary," Lekstrom said. "I think many won't be. But it is certainly a considerable step in the right direction to bring it more in line possibly with what I think the public expects."
The corporation said it will save $1.3 million a year by not filling Corrigan's old job of chief operating officer and ending a long-term bonus program for executives. But the company is also paying $800,000 to compensate the four executives for cancelling their long-term bonuses, said B.C. Ferries board chairman Donald Hayes.
The board didn't run an external search for a new CEO because of Corrigan's "extraordinarily successful" work for B.C. Ferries so far, said Hayes.
NDP ferry critic Gary Coons said B.C. Ferries still doesn't have a plan to solve the problem of decreasing ridership and skyrocketing fares. "I don't think a change in the CEO will solve the problem," Coons said. "There's a long way to go to get B.C. Ferries back into shape."
rfshaw@timescolonist.com
We thought you might also be interested in..