Experts tackle Colquitz oil quandary
Dec 07 2011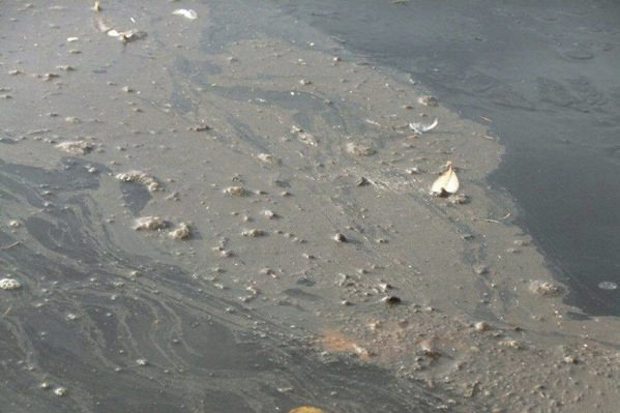 On Monday, oil could be seen in pockets from Swan Creek, down Colquitz Creek and into Portage Inlet.
Photograph by:
., Handout
Experts are assessing damage to Colquitz River and considering whether to rip out contaminated vegetation or do remediation work in the stream bed after at least 1,000 litres of home heating oil spilled into the waterway.
"We are looking at whether there is an opportunity in some of the contaminated areas, like near the outfall, to do more aggressive work," Graham Knox, provincial manager of environmental emergencies, said Tuesday.
A plan, looking at pros and cons of ramping up cleanup efforts, will be reviewed this week by Fisheries and Oceans, Saanich, Environment Canada, Esquimalt Anglers and the province. "The question is always the net environmental benefit," Knox said.
Saanich engineering director Colin Doyle said decisions on the cleanup are being made daily.
"There is seldom a single silver bullet," he said. "Ripping out vegetation can have a negative impact. We don't want to expose the banks, which causes silting in the stream and plugs up spawning beds."
On the other hand, pools of fuel caught in vegetation could cause further damage if washed into the creek by heavy rain.
Mike Ippen, Saanich's manager of public works, said there is a window of about a week for the vegetation to be removed, although heavy rain could still stop it from happening.
"It may not be all the vegetation," he said. "We may do patches — in other words, use some of the vegetation to hold back sediment."
Crews could then go back and take out more vegetation in the summer, if necessary.
The cleanup is being overseen by the province and the work is being done by Saanich public works crews with advice from consultants, biologists and Fisheries and Oceans.
Ippen estimated Saanich's costs so far at about $20,000.
The cleanup bill will go to the Kenneth Street homeowner whose tank ruptured, allowing from 1,000 to 1,800 litres of home heating oil to leak into storm drains. From there, the oil ran into Swan Creek and then Colquitz River, a coho-spawning stream.
"Hopefully, he has got good insurance," Doyle said. "He is very concerned and he has been very co-operative."
Saanich was criticized by some residents for its slow response, but Knox said he is not concerned.
Provincial staff, worried about dying fish, increased the response Sunday and advised Saanich crews on how to better position booms and absorbent pads in fast- moving water, he said.
A heavy oil smell, noticed days before the leak was officially reported Friday, was probably caused by small amounts of oil leaking from the pipe between the tank and the house, Knox said.
jlavoie@timescolonist.com
jwbell@timescolonist.com
We thought you might also be interested in..