Cougar shot at Swartz Bay ferry terminal
Dec 08 2011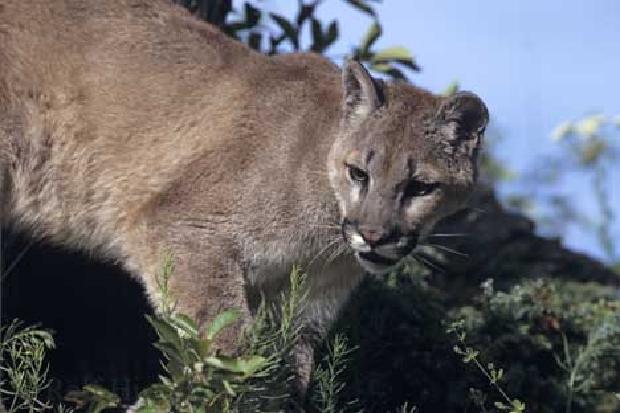 Cougars are common animals on Vancouver Island where an August attack on a toddler has heightened concern about the predators.
Photograph by:
Files, timescolonist.com
Early-morning ferry travellers were held up outside the Swartz Bay ferry terminal as North Saanich RCMP shot a mature male cougar which found its way into the compound on Wednesday.
A B.C. Ferries customer dropped off a trailer before 4 a.m. when he spotted the cougar running across the terminal holding area. It ran hard into the fence and was later seen lying in a crawl space under the main administration building where the Land's End Cafe is located.
B.C. Conservation officers were consulted, but could not attend the site for more than an hour, said RCMP spokesman Cpl. Chris Swain. Relocating the animal could have posed a risk to the public so shooting it was deemed the safest option.
This is the second cougar shooting in the area this year and the fifth sighting in North Saanich in the past six days. The cougar is likely the same one that has been seen several times this week in residential areas, according to conservation officers.
"I can't say with 100 per cent certainty," said Sgt. Scott Norris. "It's likely the same cougar that people have seen, but there could be others."
B.C. Ferries staff were advised not to walk around the site alone and the police were called, said B.C. Ferries spokeswoman Deborah Marshall.
Customers bound for the two southern Gulf Island vessels, set to sail just after 5 a.m., had to wait outside the terminal entrance while police shot the animal that weighed about 50 kilograms and was at least two years old.
There have been several cougar incidents on Vancouver Island this year, including the mauling of a toddler in Pacific Rim National Park Reserve on Aug. 29. There was also a cougar shooting in downtown Parksville on Sept. 3 and another in Goldstream Provincial Park on Sept. 6.
B.C. Conservation officers shot a cougar in Sidney on July 9 after it walked through people's yards and ended up on Beacon Avenue, in the heart of Sidney.
There are at least six cougar shootings this year on Vancouver Island, according to conservation officers.
If this cougar was the same one spotted several times this week, it could have been getting habituated, which could be dangerous, Norris said.
"They don't normally like to be seen, they like to be secretive animals sneaking around in the dark," he explained. "When they start to be seen multiple times in a neighbourhood, that's odd behaviour."
Residents reported seeing a cougar on Dec. 1 near Hillgrove and Sumac. Another report came on Friday near West Saanich Road and Talow Road and then later that same day on Osprey.
On Sunday, a cougar was observed on Eagle Way, and then shortly afterwards on Elderberry.
Cougar sightings can be reported 24 hours a day, seven days a week at 1-877-952-7277.
The B.C. Ministry of Environment offers tips about what to do during a cougar encounter. Those suggestions include never cornering a cougar. They suggest staying calm and talking to the cat in a confident voice.
DSpalding@timescolonist.com
We thought you might also be interested in..