Other drivers kept control in crash, mother's trial told
Dec 08 2011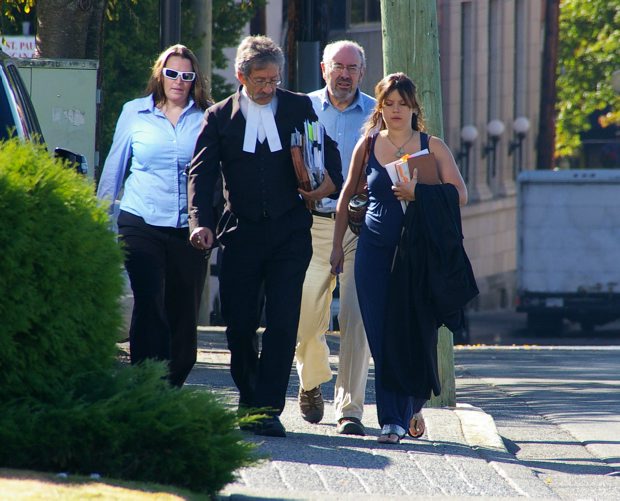 Clare Bekkers, left, flanked by her lawyer Bert King (and his assistant, far right) and her father, John Harrison, walk to the Nanaimo courthouse on Tuesday morning.
Photograph by:
Danielle Bell, Daily News
NANAIMO — Other drivers involved in a five-car crash were able to keep control of their vehicles while Clare Bekkers lost control of hers, causing an accident that killed her two sons and injured her two daughters, Crown prosecutor Ken Paziuk told B.C. Supreme Court in Nanaimo Wednesday.
His argument came during a trial in which Bekkers faces charges of impaired driving causing death, impaired driving causing bodily harm, dangerous driving causing death and dangerous driving causing bodily harm in the judge-alone hearing presided over by Justice Doug Halfyard.
Paziuk spent most of the day cross-examining defence expert witness Geoff Evans, who, on Tuesday, testified that Bekkers was likely the victim of a set of unlucky circumstances on Highway 1 near the Cassidy Inn on Dec. 22, 2008, under which she had very little control.
Evans is a forensic engineer with expertise in accident reconstruction, frontwheel-drive vehicles and snow and ice road conditions.
However, Paziuk suggested that something else must have caused the accident because other drivers subjected to the same road and weather conditions kept control of their vehicles until they were struck by other cars after Bekkers' black 2004 Ford Escape crossed from the slow lane of the northbound road to the slow lane southbound.
Paziuk asked Evans what would have happened to the vehicle if Bekkers had dropped her hands from the wheel, for instance, if she fell asleep.
Evans said based on his experience, the car would have slowed down and she more likely would have continued in a straight line, rather than turning abruptly to the left.
Bekkers testified at an earlier date that she lost control of the vehicle when she initiated a lane change to the fast lane. The car then shot into the oncoming lanes.
Paziuk asked Evans how speed affected the crash, suggesting that if Bekkers was driving appropriately for the conditions, she should have been travelling more slowly.
Previous witnesses said they saw Bekkers driving erratically and darting in and out of traffic.
Evans said that if she were driving more slowly, she could have decreased the speed at which she moved across the lanes, but the accident likely would have occurred anyway.
He said when Bekkers began her movement into the passing lane, there was very little that could have stopped the accident.
As she turned the wheel to the left, she moved the SUV into an unsteady state, then hit black ice, which made her left front wheel spin and the back end of her car move quickly around to the right, sending the car into the traffic.
The cross-examination of Evans was extended because the Crown briefly entertained the idea of bringing in its own accident reconstructionist.
Defence lawyer Bert King introduced evidence from the preliminary hearing because a witness who testified then could not be found for the trial.
In the evidence, the witness said he saw the accident happen, hit his breaks and sent his car into 360-degree spins, not hitting anyone else.
The witness said when he got out of his car, the pavement was like a skating rink and it was hard to stand.
This was contrary to other witnesses, who could not remember having a hard time walking on the road surface.
King said he has more evidence to introduce next week, and then closing arguments will be held. The trial is expected to wrap up next week.
We thought you might also be interested in..