Garbage staff lobby Victoria residents over pickup options
Dec 09 2011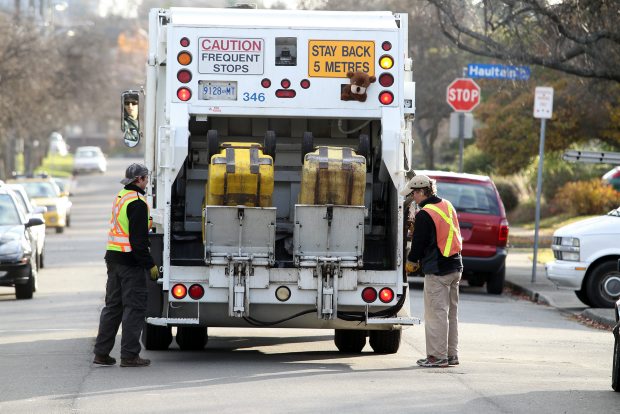 City of Victoria sanitation employees Mark Gudowski, left, and Dave Parker at work Thursday.
Photograph by:
Bruce Stotesbury, timescolonist.com
Victorians should select the most expensive garbage-collection option on city surveys now being sent out, say workers worried that potential changes will put their jobs at risk.
In separate pamphlets hand-delivered to homes last weekend, the union urged residents to protect the service they already receive and add a comment to the city's mailed-out survey calling for continuation of backyard tote collection and return.
"Our experience in talking to the public is they love the service [they are getting now] and they don't want anybody messing with it," said John Burrows, Canadian Union of Public Employees Local 50 president.
Burrows said he is
disappointed that the
status-quo option of backyard pickup and return is not being presented to residents.
"They never did put forward the status-quo option to the public as they promised they would, so they missed on that count, and then when they did come out with a semi-backyard service it's only one-way," Burrows said.
Trying to engage the public with a mailout during the holiday season is a flawed idea and many residents are not even aware of pending changes, Burrows said.
With a need to replace aging trucks, reduce worker injuries and a desire to start collecting kitchen scraps for composting, Victoria councillors decided in September to survey residents on three different collection options.
The changes will take effect January 2013.
The status quo of weekly backyard garbage pickup and bin return is not in the mix.
Instead residents can choose from three options:
n alternating weekly pickup (garbage one week and organics the next) with backyard pickup but bins left at the curb (estimated to cost $229 a year
per household);
n collection every two weeks of both organics and garbage with pickup from the backyard but with the tote left at the curb (estimated to cost $183 a year per household);
n collection every two weeks of both organics and garbage with both pickup and tote return at the curb (estimated to cost $161 a year per household).
Kitchen scraps include fruit and vegetable scraps, meat/fish and soiled paper products. Kitchen scraps make up about 30 per cent of the waste currently going into the household garbage.
All the options to be presented to Victorians would see the city supply residents with standardized, wheeled totes which can be automatically tipped by trucks to reduce injuries to workers.
Victoria and Saanich are among the few remaining municipalities to have crews do backyard pickup instead of having residents haul cans to the curb.
Mayor Dean Fortin said he welcomed the involvement of CUPE in the process.
"It's great that they are out there and putting their information forward and making sure the citizens know that," Fortin said.
The council decided against offering the status quo when it made the decision to start collecting organics, he said.
The union says residents like the existing service.
In 2003, a survey found that 88 per cent of Victoria residents were either satisfied or very satisfied with it.
The union is also worried about job losses.
Moving to curbside collection and return could result in the loss of 20,000 hours worth of work, or up to five to 8.5 jobs, Burrows said.
Fortin said no jobs will be lost.
"There's a strong need to move any people not needed in garbage collection into other areas," Fortin said.
bcleverley@timescolonist.com
We thought you might also be interested in..
Notice
: Undefined index: event in
/home/viccity/public_html/v2/content.php
on line
67