Former prisoners of war find little comfort in apology from Japanese
Dec 09 2011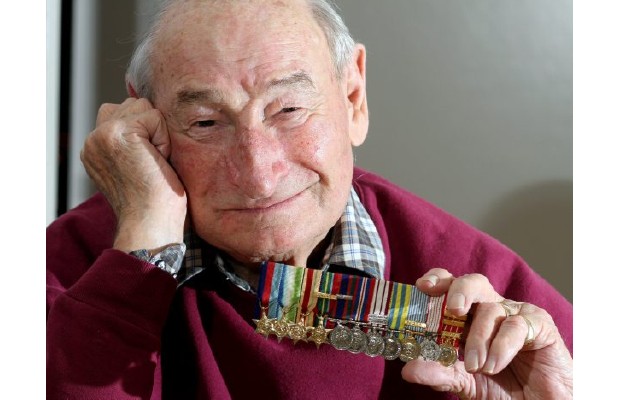 Richard Lier with his campaign medals Thursday.
Photograph by:
Bruce Stotesbury, timescolonist.com
Gerry Gerrard carries the memory of more than three years of hunger and harsh treatment in Japanese prisoner-of-war camps during the Second World War. For him, Thursday's apology from Japan to Canadian prisoners has a hollow ring.
"It didn't mean too much to me," said Gerrard, 89, of Victoria. He noted that Canada had been turned down for an apology before, "but there's a lot of others insisted on it, and they got it."
Gerrard signed up for the war at 17. Of the six years and three months he served, three years and eight months were spent as a prisoner.
He visited Japan this week as a member of the delegation that received the apology.
After the Allied forces surrendered Hong Kong on Christmas Day 1941, the Japanese kept thousands of prisoners for the next four years. Among them were about 1,700 Canadians, who suffered beatings, malnutrition and were treated like slaves.
Gerrard said the lack of food was the biggest concern for prisoners.
"Everybody was suffering from lack of vitamins, and you get a lot miseries with that. There were no medical supplies."
Ninety-year-old Richard Leir, another Victorian who spent time as a PoW, was listed as dead during his three years of incarceration. He even received posthumous recognition.
"Mother got a Memorial Cross and all that," he said.
When he finally got back to Canadian soil in Halifax, he weighed just 91 pounds and was told he had to stay put until he was 150. He made a call home via the recently completed transCanada phone service, but his confused little sister hung up.
He got a hold of his mother on the next try.
"It all began again, I became alive," he said.
As for the apology, Leir had a similar response to Gerrard.
"I don't need an apology, I just survived. I was extremely lucky."
Leir became a rear-admiral and served as commander Maritime Forces Pacific.
David Zimmerman, a professor of military history at the University of Victoria, said many of the PoWs died in the camps or prematurely after the war because of what they went through.
"The lingering effect of lengthy periods of malnutrition, beating, psychological torture and all the other conditions that they went through, is that there was a significant number that didn't live to a ripe old age," Zimmerman said.
He said the apology has been a very long time coming.
"I would guess 90 per cent of them are no longer with us, and most of their wives have gone. So I think that probably, for some of the veterans, they may feel better about it, but I suspect for a lot of them it's just too little, too late.
"And even then, perhaps no apology could have sufficed for the treatment that they received."
George MacDonell, an 89-year-old veteran who lives in Toronto, chronicled some of his experiences in his book, One Soldier's Story. He said the apology has little value, but will hopefully lead to something positive in Japan.
"The real good news about this is that this apology may signal that the Japanese people are finally going to admit, instead of denying, their behaviour in southeast Asia during World War Two. I don't think any culture can ever be healthy if it denies whole, major parts of its existence."
It is not himself or other combatants MacDonell feels are most deserving of an apology, but rather the civilians who were brutalized or murdered by Japan during the war, including millions of Chinese who were killed and Korean women who were captured and turned into sex slaves.
"As soldiers, we didn't really expect to be treated like Sunday school teachers," MacDonell said.
Veterans Affairs Minister Steven Blaney, who accompanied a delegation of veterans to Japan for the apology, said in a statement: "This important gesture is a crucial step in ongoing reconciliation and a significant milestone in the lives of all prisoners of war.
"It acknowledges their suffering while honouring their sacrifices and courage."
Foreign Affairs Minister John Baird added that the apology would help in healing the "terrible pain and heavy burden of the Second World War."
jwbell@timescolonist.com
We thought you might also be interested in..