Wheelchair-bound man says pair who beat him spoke only of money
Dec 09 2011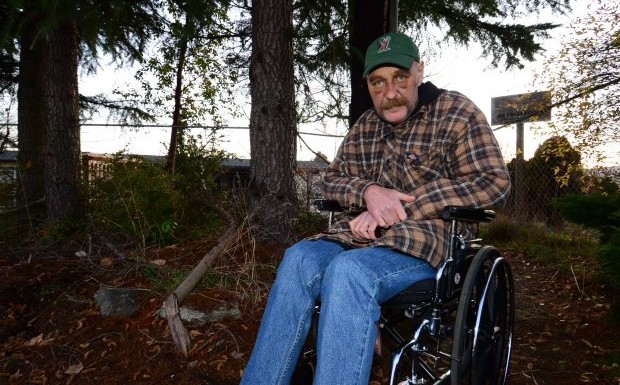 Bob Benson, some of his injuries still visible revisits the scene of the attack on Hecate Street in Nanaimo.
Photograph by:
Chris Koehn, Nanaimo Daily News, timescolonist.com
A man who was thrown out of his wheelchair and beaten by two attackers says the only thing the pair were interested in was his last $160.
Bob Benson was attacked and robbed after he wheeled himself out of the senior-care facility where he lives onto Hecate Street in Nanaimo for a cigarette before bed.
"The only real words that were spoken was 'money'," said Benson, 61. "I tried my best not to hand it over, then they started to beat me on the head and I was in and out of consciousness.
"Once I couldn't take it anymore ... all I recall was just pointing to the top pocket in my jacket. I felt a hand going in and the beating stopped. I must have passed out because I didn't hear them leave."
Benson said he was able to muster the strength to right his wheelchair and climb back in. He found his wallet, with the cash missing, and went back to his home at Nanaimo Serenity Lodge.
Benson, who suffers from tumours from his neck to his spine and hips, did not report the incident, which happened about 10: 30 p.m. last Friday.
He stayed in his room and it was only on Sunday morning that bruises from the beating appeared, alerting health-care workers at the lodge. After Benson told them what happened, he was taken to hospital for treatment and Nanaimo RCMP were called.
Benson had injuries to his left wrist and arm when his wheelchair was pushed over, and to his waist and body from the beating. He was left with bruises on his head and his left eye was swollen shut for several days.
"I'm a very quiet, easygoing guy and I'm not an attention-seeker by any means. That's why I kept it quiet," Benson said. "Then I realized after speaking with the RCMP that I should have notified them immedi-ately. By not reporting it, I could have endangered others that live here."
Benson has been in a wheelchair for about three months. He cannot stand or support his own weight.
"My first thought [during the attack] was what a cowardly act, to prey on the weak and the elderly," he said. "I don't anger easily and, honestly, I'm a forgiving man. I forgive them, but I would just plead that they would do the right thing and turn themselves in."
The suspects are described as aboriginal males. One had long, dark hair and the other wore a bandana. Anyone with information can call Nanaimo RCMP at 250-754-2345.
We thought you might also be interested in..