'Well-armed drug dealers' arrested
Dec 10 2011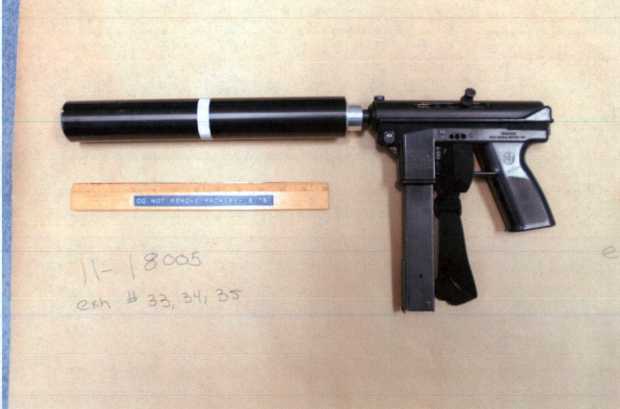 Saanich police seized two machine-guns, fitted with silencers, in a raid on an apartment in the Hudson building, in the 700 block of Fisgard Street.
Photograph by:
Saanich Police Department, .
More than two dozen police officers carried out raids on two homes, seizing guns and drugs and arresting three alleged drug dealers.
Saanich police spokesman Sgt. Dean Jantzen said a four-month drug and organized crime investigation by several departments resulted in the seizure of five firearms and cocaine, and in three major drug dealers being taken off the streets of Victoria.
"This was a gang of well-organized, well-armed drug dealers," Jantzen said.
"This is beyond a basic street-corner operation. They were very well-known in the local area, not just to police but in the drug underworld."
About 5 p.m. Thursday, members of the Greater Victoria Emergency Response Team, armed with rifles, stopped a car near the intersection of Quadra Street and Tolmie Avenue. Two men from Saanich, aged 29 and 31, were arrested.
The team raided the men's home in the 4000 block of Kincaid Street and seized an undisclosed amount of street-ready cocaine, Jantzen said.
Officers raided an apartment in the Hudson building, in the 700 block of Fisgard Street, and found five firearms.
Two of the five firearms seized were fully-automatic machine-guns with silencers, which are illegal.
The other three guns were long-barrelled firearms.
A 24-year-old Victoria man linked to the Hudson residence was arrested downtown, Jantzen said.
The investigation was carried out by Saanich police's street crime unit, the Victoria police strike force, Sidney/North Saanich RCMP and the Combined Forces special enforcement unit, which focuses on organized crime.
Officers carried out surveillance on what Jantzen called a "highly sophisticated operation."
The two Saanich men were released on strict conditions, facing weapons and drug trafficking charges. The Victoria man remained in police custody and was due to appear in court Friday on weapons and drug charges.
Their names were not released as they had not been formally charged.
kderosa@timescolonist.com
We thought you might also be interested in..