Oil spill turns homeowner's life into a 'nightmare'
Dec 11 2011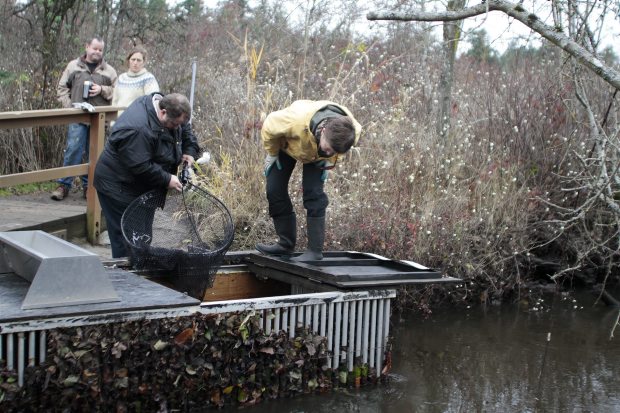 Chris Bos and Dorothy Chambers check for fish affected by the spill last month. (Nov. 2011)
Photograph by:
Lyle Stafford, timescolonist.com
The owner of a home in the Glanford area of Saanich says his life has become a "nightmare" because of a heating-oil leak that could contaminate the Colquitz River system.
An underground line connected to the oil tank is protected by concrete, but somehow it broke, said the owner, who did not want to be named.
At least 1,000 litres of oil permeated the soil in the Kenneth Street area. The contamination has been a "a slow-moving disaster," but various agencies are working hard to contain it, Saanich Mayor Frank Leonard said.
Crews have been working to assess the environmental damage for the past few days and residents report smelling a strong odour when walking by the stream near the corner of McKenzie and Glanford avenues.
The owner said he is frustrated by a lack of support for homeowners who find themselves in such circumstances.
"My life's turned into a nightmare and I don't know where we're going from here," he said.
He wants other residents to know that their oil tanks are not the only source for an oil leak. "Just because they check the tank and are satisfied that there is no leak, you still don't know," he said.
Cases like this see the cost of cleanup borne by the homeowner. Lindsay Olson, of the Insurance Bureau of Canada, said most homeowners have insurance policies that can deal such with a situation.
"Because the damage appears to be to a third party, then the comprehensive personal liability portion of the policy would respond, up to the limit of the policy. Most policies these days start around $1 million of liability coverage. It's usually in the $1million to $2-million area."
The cost of the spill to Saanich was estimated at $20,000 by the middle of last week, a figure that included staff time and consulting fees.
Mike Ippen, manager of public works for Saanich, said Saanich residents with concerns about their fuel tanks are usually referred to the fire department.
Olson said the general state of a tank is unlikely to affect insurance coverage.
"In this case, that wouldn't really come into the equation. The fact that the event happened would be enough to trigger the coverage under the liability policy."
Discussions over the past few days have led officials to decide on a twopronged approach - flushing the system with unchlorinated water and removing vegetation from the banks in key areas.
Graham Knox, provincial manager of environmental emergencies, said only vegetation that emits a sheen from having fuel in it will be taken out.
That should help keep fuel away from animal life near the water, Knox said.
"We've got small mammals like mink, there's a beaver, river otters, the occasional duck."
Water samples taken last week by the Capital Regional District have been analyzed and show that levels of contaminants are below those that harm aquatic life, Knox said.
That leads to optimism that 20 to 40 coho residing around lower Swan Creek are faring well.
More water samples were taken Friday, along with sediment samples.
Saanich public works crews took more positive steps on Friday by cleaning out a culvert under McKenzie Avenue. They found some oil pooled up in contained area and removed it with their vacuums.
Saanich has also brought in biologist Ian Bruce, who this spring worked on the gasoline and diesel spill at the Goldstream River.
Old and buried tanks have become a troublesome issue for insurance companies, Olson said. Oil tanks generally last between 20 and 30 years. jwbell@timescolonist.com
dspalding@timescolonist.com
We thought you might also be interested in..