Public opinion sought on parks plan
Dec 11 2011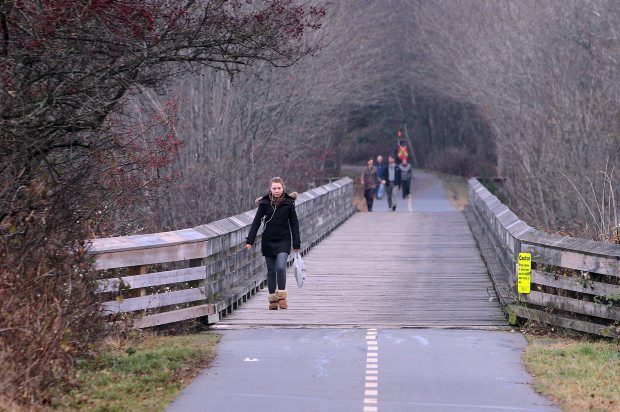 People enjoy a walk along the Lochside Regional Trail in Saanich Saturday.
Photograph by:
Adrian Lam, timescolonist.com
Free drop-in swimming and skating for children. Community gardens on boulevards or unused municipal land. And a "play in the park" program linked to local elementary schools.
Those are just some of the ideas contained in a draft master plan for Saanich parks and recreation that goes to council early next year.
The district is trying to gauge public support for dozens of recommendations in the plan. Anyone interested can fill out a survey on the district's website until Jan. 8.
Saanich Coun. Paul Gerrard said the municipality is already well-served by its parks, trails and recreation facilities, but the plan offers ways to build on that success.
"We get nothing but kudos from the public," he said. "They just love what we're doing, so I think we'll keep doing more of the same. I'd be surprised if there's anything really radical that come out of the parks master plan."
Gerrard, who chairs the parks, trails and recreation advisory committee, said he was intrigued by recommendations in the draft report for fighting childhood obesity and encouraging physical activity among the young.
The plan suggests providing free drop-in swimming, skating and weight-room access for children and youth, as well as an afterschool "just-play-in-thepark" program with links to local elementary schools.
"That actually is probably the one area there that I was really excited to see," he said. "Obesity and Type 2 diabetes in children is rampant and, of course, with so many electronic devices around, unfortunately kids don't get out and play."
Gerrard said the financial cost of providing free drop-in times would be worth it. "When you consider the health costs that are involved by not doing that, I think it's a bargain," he said.
The plan also calls for Saanich to explore ways for people to grow food locally, possibly by using boulevards or municipal land for community gardens.
Gerrard said that is another recommendation that he would be willing to support. "I'm all over that," he said. "There's all these pockets of land around that could be used."
It is the first time in 10 years that the district has updated its master plan for parks and recreation. The document will be used over the next five to seven years to guide the district. The council still has final say over when and how various programs are introduced.
The plan can be found at http: //www.saanich.ca/ parkrec/masterplan.html. lkines@timescolonist.com
We thought you might also be interested in..