Soup kitchen at St. Saviour's to serve final lunch on Dec. 23
Dec 13 2011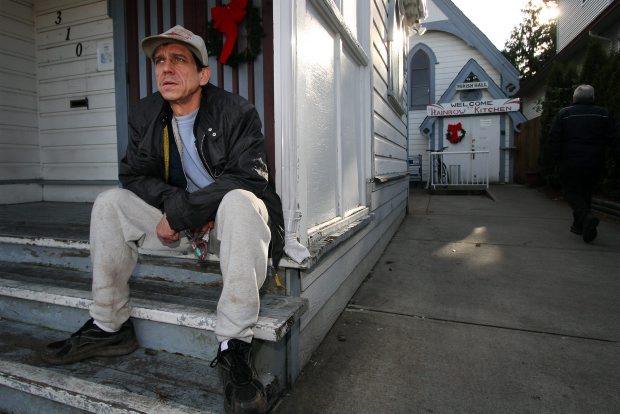 Ray Drobott: "All I had was peanut butter and bread this morning, so [enjoying a full meal is] pretty good."
Photograph by:
Adrian Lam, timescolonist.com
About 125 regular soup-kitchen visitors will have their last meal at the old St. Saviour's Church in Victoria West on Dec. 23, as operators prepare to find a new home.
Victoria Rainbow Kitchen Society has offered the meal program in the church at 310 Henry St. for the past year-and-a-half, but last week, the Anglican Diocese of B.C. announced the sale of the property. It was one of seven sites up for grabs on southern Vancouver Island.
The soup kitchen started 10 years ago, when members of the now-disbanded congregation identified the need for a food program in the area.
The program was taken over by Rainbow Kitchen after the diocese closed the sanctuary because of declining membership.
Society directors are looking for a new home for their regular visitors, who include homeless people, single mothers, seniors and the working poor.
Ray Drobott started coming to the old church about three weeks ago. Working odd jobs right now, he needs the hot meal to get through his day.
"I'm full," he said after a meal Monday while sitting on the church stoop, his fingers twisting a cigarette rolling paper around a clump of tobacco. "All I had was peanut butter and bread this morning, so it's pretty good."
On Monday, volunteers fed 104 people, serving about 18 kilograms of mashed potatoes plus pots of mixed vegetables, clam chowder and chicken drumsticks. They sent an additional 15 people away with bagged meals.
About 100 volunteers share shifts at the Henry Street site, said Al Lindskoog, a society director who was also washing dishes on Monday. The board pays about $3,500 a month for the utilities for the hall and additional food when donations are low.
That bill is sure to escalate in a new location because the society will have to pay rent as well, Lindskoog said. The Anglican Church did not charge the society for rent.
A private investor has agreed to buy the property, which was listed at $850,000. All conditions have been removed and a "significant" down payment has been made, but the purchase price will not be released until the sale is final, said Chris Pease, asset manager for the diocese.
St. Saviour's will be the second of the seven churches to sell since they were put on the market last year in an effort to help pay down the diocese's deficit. The St. Martin in-the-Fields church on Obed Avenue in Saanich sold to the Victoria Full Gospel Fellowship for more than $1 million.
Rainbow Kitchen is one of about 20 groups that offer meals to the hungry. Churches and social service organizations offer a range of meals. Some of those cater specifically to family and youth groups, others are open to everyone. Groups like the Salvation Army offers three meals a day, five days a week and charge from $2 to $4 depending on the meal.
Rainbow Kitchen must vacate by Jan. 19, so the directors decided to hold their Christmas lunch as their final meal in order to leave them enough time to move out.
"We're very supportive of what Rainbow Kitchen does," Pease said. "It's a real pity this has to occur, but it's the reality of our situation."
Society directors are in discussions with one potential landlord in the neighbourhood.
dspalding@timescolonist.com
We thought you might also be interested in..