Sea turtle rescued from Island's west coast dies at Vancouver aquarium
Dec 13 2011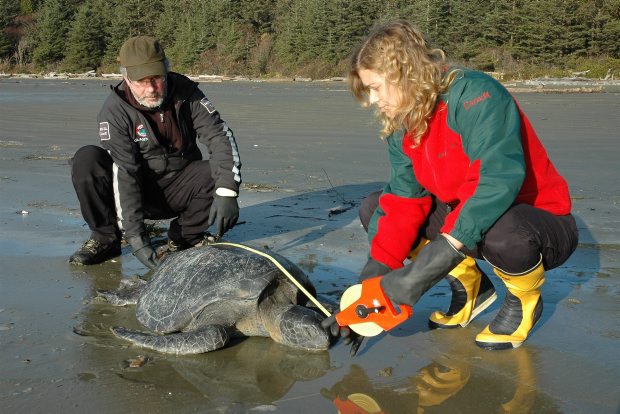 Like the others, the third sea turtle found on a Pacific Rim National Park Reserve beach was in a "cold-stunned" state.
Photograph by:
Parks Canada, .
The third hard-shelled sea turtle to wash up on the west coast of Vancouver Island in the last two weeks has died at Vancouver Aquarium.
The young, male green sea turtle, which was in poor condition, was spotted by a visitor to Combers Beach in Pacific Rim National Park last week. Parks Canada staff used a stretcher to carry the comatose animal off the beach.
The B.C. Marine Mammal Response Network then transported the turtle to Vancouver Aquarium, but it died Saturday evening.
"All the turtles were already in a cold-stunned state, which is not surprising given that the water temperatures are significantly below what they can handle," said Lisa Spaven, Fisheries and Oceans marine mammal response biologist.
Another green sea turtle and an olive ridley sea turtle, both of which are listed as threatened by the International Union for Conservation of Nature, also washed up on Pacific Rim beaches in poor condition in recent weeks but died at the aquarium.
It is likely that the tropical turtles got caught in the cold when fall arrived and water temperatures dropped, Spaven said.
"We know we have hard-shelled sea turtles in the water in late summer and early fall — it's the northern part of their range — but it's interesting they are stranding so late into fall," she said.
"It's possible that, for the last couple of months, they have been drifting in a cold-stunned situation — in a coma."
It is too early to speculate whether the strandings indicate a pattern or a change in climate, Spaven said.
However, autopsies, including an examination of stomach contents, could reveal some of the threats faced by the sea turtles, she said.
Reports of dead or injured marine mammals should be made to the marine mammal response network hotline at 1-800-465-4336. Live sightings should be reported to Vancouver Aquarium's B.C. Cetacean Sightings Network at 1-866-ISAWONE.
jlavoie@timescolonist.com
We thought you might also be interested in..