Sooke council swings into action with promised spending reviews
Dec 13 2011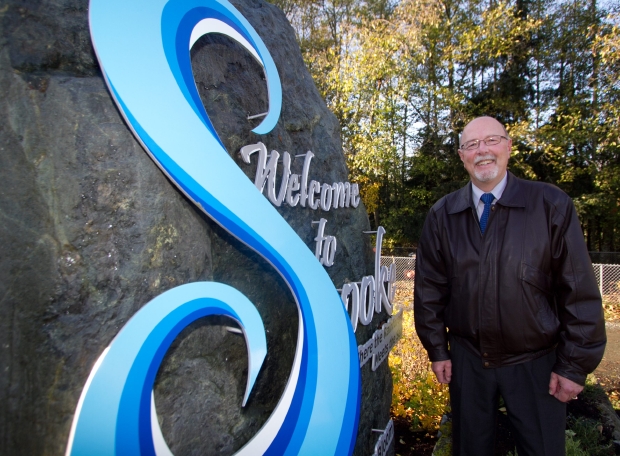 Sooke Mayor Wendal Milne: "A new way of doing things."
Photograph by:
Darren Stone, timescolonist.com
Sooke Mayor Wendal Milne and his new council wasted little time following up on campaign promises some made to review city spending.
The politicians met for their first public meeting last night and introduced several changes for the up-coming term.
Council members overturned a five-year legal contract signed with the municipality's solicitor and they established special committees to review other contracts, including the agreement with the owner of the Prestige hotel and the community's sewage treatment operator.
Many of the changes were already discussed with senior staff at an in-camera session on Saturday, including the decision to introduce a new bylaw that will freeze council's pay for the next three years.
"I've been working hard for the last two weeks and we've had several meetings already . . . so we can show that we're serious about what we said we would do," Milne said in an interview. "This is not a slight on staff, it's just a new way of
doing things."
The previous Sooke council signed a five-year $570,000 deal with Lidstone and Company Law Corporation, but that figure was based on a level of service that was much higher than what is expected in the coming term, Milne said. He and several members of the current council are upset with that agreement because the contract did not go out to tender.
"We had higher costs because of a couple of major developments, but we don't expect to have those same costs," Milne said. "Our belief is that over the next few years, we're not going to require that level of service."
The previous Sooke council also proposed a long-term agreement with Edmonton-based EPCOR to continue operating the community's sewage system at a cost of about $21 million. Residents petitioned against the plan forcing council to reduce the contract to five years at about $900,000 annually.
Milne led the petition, which collected the necessary 975 signatures to overturn the initial agreement. He appointed councillors Bev Berger and Rick Kasper to join him on the select committee that will meet with EPCOR to review the current sewage system and establish any ways to reduce costs.
Councillors Herb Haldane and Maja Taite will join a second select committee to review the partnering agreement with Prestige Holdings, the owner of the
$50-million hotel on the waterfront.
The public has long criticized the agreement, saying that there was overspending for a public boat launch built next to the hotel.
"There is a lot of misinformation out there and we just want to review everything and get all the right information out to the public," Milne said.
dspalding@timescolonist.com
We thought you might also be interested in..