Dark secrets of residential schools to become part of national memory
Dec 14 2011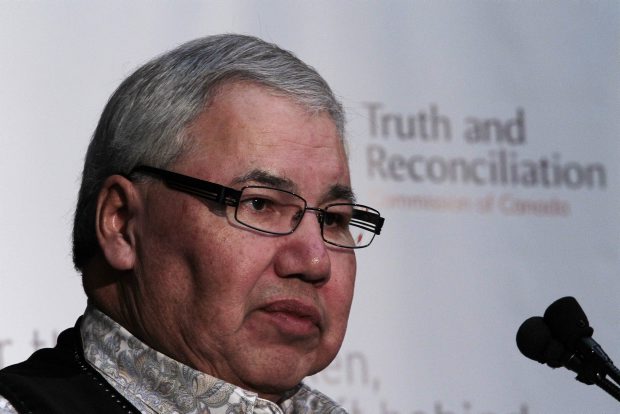 Chairman Justice Murray Sinclair speaks at the Truth and Reconciliation Commission news conference Tuesday.
Photograph by:
Lyle Stafford, timescolonist.com
When Butch Dick hears people saying that First Nations should get on with their lives and forget the 120-year legacy of residential schools, he puts aside his personal haunting memories and thinks of his mother.
"People say 'Get over it. It's all over, all done,' " the Songhees First Nation elder told a Truth and Reconciliation Commission news conference in Victoria.
"Then I think of my mother, who lost all her kids in one day to an RCMP officer and an Indian agent. I can't get over that," he said.
Memories and legacies from the five Vancouver Island residential schools will be at the heart of a regional event to be hosted by the commission in Victoria next April.
The event will be a chance for all Canadians, both aboriginal and non-aboriginal, to learn about the legacy of the residential school system, said Commission chairman Justice Murray Sinclair.
"There's a tremendous opportunity on the Island to bring together people who have experience of the schools and those who know very little about it," he said.
There are probably about 2,500 residential school survivors on Vancouver Island, but with friends, families and members of the public, the message should reach at least 25,000 people, he said.
The regional event, to be held at Victoria Convention Centre April 13 and 14, will follow community hearings in Port Hardy, Campbell River, Port Alberni and Duncan. A national event will be held in Vancouver in 2013.
It is important for non-aboriginal people to hear the stories because while First Nations children were taken from their families and told in school that they were savages and heathens and their culture was irrelevant, children in public school were being taught the same thing, Sinclair said. Stepping stones to mutual respect now have to be built from scratch, he said. "Then we must ask ourselves the question that is most important. Now that we know about this, what do we need to do about it," he said.
The commission has
$60 million funding through the 2007 Indian Residential School Settlement Agreement with a five-year mandate. One aim is to establish a national memory, Sinclair said.
"We don't want it ever to happen that, in four, five or six generations from now, people can say it never happened. We need to make sure there's a record," he said. More than 150,000 First Nations, Metis and Inuit children were taken from their families and placed in 130 residential schools across the country between the 1870s and closure of the last school in 1996.
Barney Williams, a member of the Tla-o-qui-aht First Nation, who sits on the advisory survivors committee, was sent to residential school when he was five.
Now it is time to come together with conversation, rather than anger, he said.
"It's an opportunity to turn the page on a dark chapter of Canada and start to move forward as people together," Williams said.
Kwakwaka'wakw Chief Bobby Joseph, who spent 11 years in a residential school, said the commission is breaking the secrecy around one of Canada's darkest secrets. "We need a way to live with each other in mutual respect, so I am asking all Canadians of all faiths and all colours to come to this event in Victoria in April," he said.
jlavoie@timescolonist.com
We thought you might also be interested in..
Notice
: Undefined index: event in
/home/viccity/public_html/v2/content.php
on line
67