Canadian rugby women on top of the world
Dec 14 2011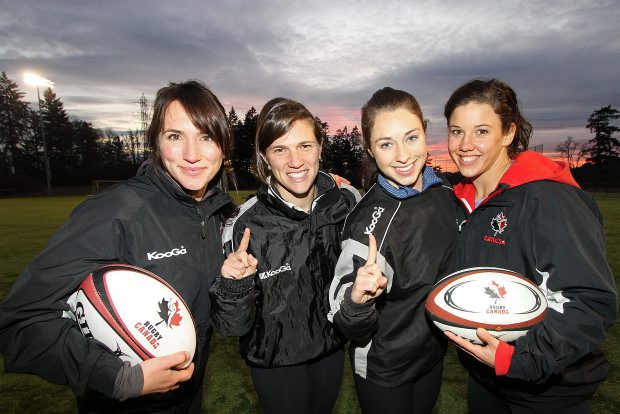 Rugby players, from left, Barbara Mervin, Julianne Zussman, Brittany Waters and Jessica Dovanne of the Canadian national team, get together for a workout Tuesday at the Pacific Institute for Sport Excellence in Saanich. They're on top of the world after a stunning championship victory at Dubai in the first-ever International Rugby Board-sanctioned women's sevens tournament. The sport will make its Olympic debut at Rio in 2016.
Photograph by:
Adrian Lam, timescolonist.com
Not many people can say they are top-ranked in the world at what they do.
Maybe that's why Canadian women's national team sevens rugby players Barbara Mervin, Jessica Dovanne, Julianne Zussman and Brittany Waters are beaming these days while working out at the Pacific Institute for Sport Excellence on the Camosun College Interurban campus.
Canada's stunning victory recently in Dubai at the first-ever International Rugby Board-sanctioned women's sevens tournament — all part of the process of building to sevens' Olympic debut at the 2016 Rio Summer Games — gave the Canadian national side the world No. 1 rating.
The Olympic inclusion has been monumental on many levels for sevens rugby. In Canada, having Olympic status allows access to Own the Podium funding to aid in training and travel. That makes quite a difference for a group of athletes used to paying out of their own pockets for tournament travel expenses.
The impact has been immediate for the Canadian female sevens squad, which upended the defending world champion Aussies in Dubai.
"It is amazing to say you are No. 1 in the world," said Mervin, who like Dovanne and Zussman plays for the Gordon Head-based Velox Valhallians, while Waters plays for a club on the Lower Mainland.
"Playing in front of 50,000 fans at Dubai was incredibly overwhelming. It was like, 'Holy cow, stay focused, stay focused.' "
With the Canadian national men's and women's teams in both XVs and sevens about to relocate to the new national training centre in Langford beginning in January, Islanders are going to get to know the female players as well as the males.
"Centralizing the national team in Langford is going to be hugely important. It's nice to know we will have a permanent home base," said Mervin, a fashion designer in her civilian career and owner-designer of Aptoella rugby apparel.
"When I switched sports from gymnastics at age 16 [in Peterborough, Ont.], the soccer girls had been playing soccer since they were about four. All my guy friends played on the rugby team, so I tried it. In rugby, I found such an accepting community and a sense of family."
The Dubai win in women's sevens capped a memorable year for Canada in rugby. On the men's side, there was gold in sevens at the 2011 Guadalajara Pan American Games and a fairly stirring performance at the 2011 XVs World Cup in New Zealand.
"The Canadian men are an incredible bunch of players who have been so supportive of us," Mervin said.
"And it was really inspiring what they accomplished this year."
The feeling is, no doubt, mutual.
cdheensaw@timescolonist.com
We thought you might also be interested in..