Workers warm to Colwood's solar home-heating scheme
Dec 15 2011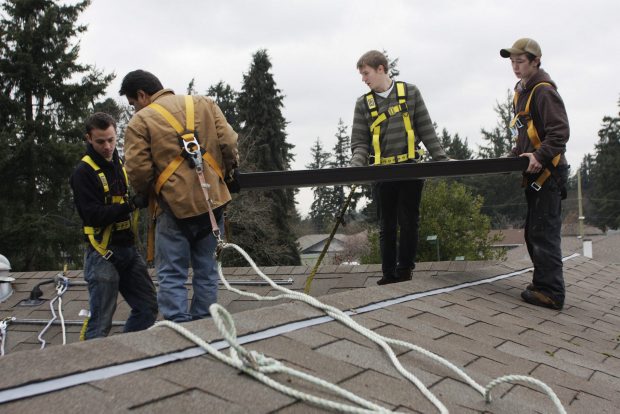 Left to right, Edward Hale, Steve Planes, Cameron Sinclair, and Daniel Justensen install a solar panel in Colwood Wednesday.
Photograph by:
Lyle Stafford, timescolonist.com
A subsidized solar home retrofit program in Colwood has kept installation crews busy as residents buy into energy conservation.
James Smyth installs, on average, two solar water heating systems a week, a significant leap from about two a month earlier in the year.
His company, Pacific Solar Smart Homes, is busier than ever. The growth in business stems solely from the $3.9-million Solar Colwood program, which rolled out about three months ago. The project aims to retrofit municipal buildings with solar energy, while offering incentives for businesses and homeowners to do the same.
The program has brought jobs to Colwood and has sparked a new awareness of energy conservation in the community.
Because of the high cost of solar-powered heating systems, people are reluctant to switch to a new model, Smyth said.
"This industry really is incentive driven," he said. "The systems are still fairly expensive and with the regulatory concerns the systems won't get a whole lot cheaper."
Solar Colwood offered a $3,300 grant to the first 10 people who signed up for a hot-water heating system that can cost up to about $7,500 installed.
The next 200 residents qualify for a $2,500 grant from Solar Colwood, followed by a $2,000 grant for the next 350 residents who sign up. The last 320 residents can get a $1,750 grant.
Hot-water costs can be reduced by about one third or even half depending on the home. In addition to promoting energy efficiency, though, Solar Colwood is creating opportunity for residents.
Ed Hale is a the newest member of Smyth's team. Hale was one of a dozen First Nations people from Beecher Bay and the T'Sou-ke Nation to train in the Canadian Solar Industries Association, a certificate course sponsored by Solar Colwood.
Hale served three years in the Canadian Navy, but left and was looking for new work. Inspired by the T'Sou-ke solar program, which has extended to 50 homes, Hale heard about the training and signed up.
"I could have gone to the oil rigs, but at the end of the day, I like to look back and see positive results from my work, so that I can feel connected to the sustainable ways our ancestors lived," he said.
Hale plans to continue his training because he sees more people turning toward solar installations.
He and the rest of Smyth's crew were installing a solar hot water system at Colwood city Coun. Judith Cullington's home on Wednesday. Cullington has been a staunch supporter of the program, which was criticized during the recent election campaign.
Mayoral candidate Brian Tucknott said the program's cost to the city was too large. Cullington said the city will pay about $31,400 for taxes and short-term loans. That amount equates to about $5 per household over the three years of the program.
About 51 residents have signed contracts for energy-saving improvements since Solar Colwood officially launched in July. The municipality's goal is to have up to 1,000 homes with solar hot water and other clean energy upgrades.
dspalding@timescolonist.com
We thought you might also be interested in..